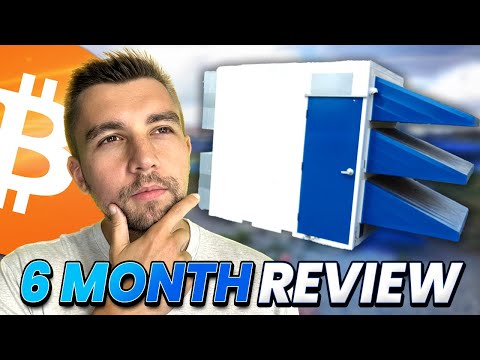 I have been mining with my Digital Shovel Minipod for over 6 months now, it is a pre-built plug and play Bitcoin and Crypto mining container – it's supposed to make it easy to deploy and scale a mining farm, but is this pod really worth it? Buy your own miner here! https://voskco.in/am
Written Digital Shovel Minipod M300 review - Digital Shovel Bitcoin Mining Container 6 Month Update Review | by VoskCoin | VoskCoin | Oct, 2023 | Medium
Buy your own Digital Shovel mining pod at a discount - Digital Shovel x VoskCoin
Watch the full journey building out my mining farm here (playlist) - https://www.youtube.com/playlist?list=PL4dnwHTjcf-9qfOEekcjPwqJqgkO455f-
In 2022 Digital Shovel sent us the Minipod M300 to review, and it quickly became a key piece of the Bitcoin mining farm I was building out, and yes I also love altcoin crypto mining lol! Anyway, mining is the best way to earn passive income so a plug and play mining rig container made a lot of sense to quickly deploy and scale mining farms… so how has the Digital Shovel pod actually held up over the last 6 months of mining, and is the Digital Shovel BTC mining container worth buying or would you be better off converting a shed or shipping container into your own DIY BTC Crypto mining farm? Let's review and find out!
When I received the Digital Shovel - https://www.youtube.com/watch?v=jYqHWAjbFJI
First time I started mining with the Digital Shovel - https://youtu.be/09-O3toC220

Timestamps


00:00 Mining bitcoin in the digital shovel minipod
00:50 A plug and play Bitcoin mining container?
02:16 A look inside the Digital shovel
03:40 How am I powering this mining container
05:28 A tripping breaker?
06:22 The network switchers inside the miner
07:30 I keep building crypto mining sheds!
08:40 Fans and heating the mining container
10:22 How many miners am I running?
11:16 A smaller scale Nanopod?
12:00 A new immersion mining container from Digital shovel?
12:23 Problem solving with Digital Shovel
13:00 A premium quality container
13:45 Is it worth it?
15:53 Digital Shovel Problems
16:40 Upgrading the airflow in the minipod
17:30 Mobility and Security
18:31 Check out the article if you want to know more!
Follow us on our official social media accounts! - VoskCoin | Instagram, Facebook | Linktree
Subscribe to VoskCoin for more passive income tips! https://voskco.in/sub
Follow VoskCoin on TikTok for more shorts! https://voskco.in/tiktok
VoskCoin is for entertainment purposes only and is never intended to be financial investment advice. VoskCoin owns or has owned cryptocurrency and associated hardware. VoskCoin may receive donations or sponsorships in association with certain content creation. VoskCoin may receive compensation when affiliate/referral links are used. VoskCoin is home of the Doge Dad, VoskCoin is not your Dad, and thus VoskCoin is never liable for any decisions you make.
Prebuilt Bitcoin Mining Container - 6 Month Review - Digital Shovel