Hey Everyone,
I hope you are doing well, earlier today I had the opportunity to test the RTX 3080 Ti Mining performance and provide the hash rate data to the community. This was thanks to TekShinji who I have linked below, please go check out their channel when you have a moment. I did a Livestream of my testing, but couldn't do every single Algo. I will do my usual summary video in the future, and both will be linked below.
Livestream (please help by hitting the like button, as many dislike due to anger):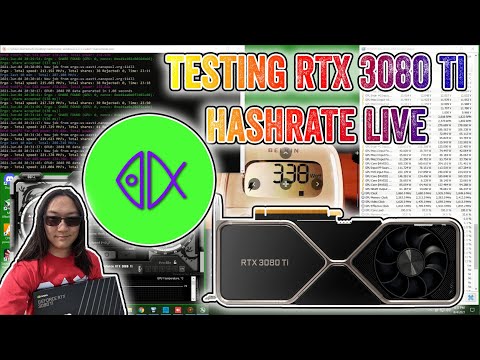 Summary video: (coming soon):
Check out TekShinji's Youtube channel (fellow miner who allowed us to test):
In summary, Ethereum seems to be the only Algo that is limited while the others seem to perform as normal. However, in my testing, I noticed that some Algos the Ti actually loses out to the Non-Ti, but not sure why. The community is working on unlocking, but nothing definitive yet so stay tuned.
Driver: 466.63
Ambient Air Temp: 78 F
With the Stock fan curve on Founders Edition, 3080 memory temps can get really warm, nearing the T-junction cap. Hottest I saw was 104C, so recommend setting an aggressive but manageable fan curve.
Phoenix Miner - ETH
| 56.5 Mhs | 0 core / 0 mem | TDP - 100% | 325 Watt |
| --- | --- | --- | --- |
| 64 Mhs | 0 core / 1250 mem | TDP - 100% | 305 Watt |
| 59.2 | 0 core / 1200 mem | TDP - 70% | 245 Watt |
| 64.1 Mhs | -502 core / 1250 mem | TDP - 50% | 210 Watt |
| 66.4 Mhs | -502 core / 1500 mem | TDP - 55% | 220 Watt |
Phoenix Miner - ETC
| 56.1 Mhs | 0 core / 0 mem | TDP - 100% | 325 Watt |
| --- | --- | --- | --- |
| 60.2 Mhs | 0 core / 500 mem | TDP - 80% | 280 Watt |
| 64.55 Mhs | -200 core / 1200 mem | TDP - 75% | 265 Watt |
NBminer - Ergo
| 125.6 Mhs | 0 core / 0 mem | TDP - 100% | 280 Watt |
| --- | --- | --- | --- |
| 150 Mhs | +250 core / 1500 mem | TDP - 100% | 180 Watt |
Dizzy Mining + Mem OC unlocked hashrate
| 225.85 Mhs | 0 core / 0 mem | TDP - 100% | 340 Watt |
| --- | --- | --- | --- |
| 240.10 Mhs | +250 core / 1500 mem | TDP - 110% | 210 Watt |
Nanominer - Ergo
| 203.4 Mhs | 0 core / 0 mem | TDP - 100% | 335 Watt |
| --- | --- | --- | --- |
| 205.5 | 0 core / 0 mem | TDP - 80% | 280 Watt |
| 206.31 | 100 core / 0 mem | TDP - 80% | 280 Watt |
| 236.3 Mhs | 100 core / 1000 mem | TDP - 80% | 280 Watt |
T-Rex Miner - KAWPoW
| 47.25 Mhs | 0 core / 0 mem | TDP - 100% | 345 Watt |
| --- | --- | --- | --- |
| 43.85 Mhs | 0 core / 0 mem | TDP - 80% | 280 Watt |
| 50.2 Mhs | 100 core / 1100 mem | TDP - 100% | 325 Watt |
| 44 Mhs | 100 core / 0 mem | TDP - 80% | 280 Watt |
| 42.65 Mhs | 100 core / 1000 mem | TDP - 80% | 280 Watt |
T-Rex Miner - Octopus - Conflux
| 88.5 Mhs | 0 core / 0 mem | TDP - 100% | 345 Watt |
| --- | --- | --- | --- |
| 85.80 Mhs | 0 core / 0 mem | TDP - 80% | 280 Watt |
| 85.80 Mhs | 100 core / 0 mem | TDP - 80% | 280 Watt |
| 85.8 Mhs | 100 core / 400 mem | TDP - 80% | 280 Watt |
T-Rex Miner - Firo (Zcoin Rebrand) - MTP
| 6.36 Mhs | 0 core / 0 mem | TDP - 100% | 350 Watt |
| --- | --- | --- | --- |
| 5.9 Mhs | 0 core / 0 mem | TDP - 80% | 280 Watt |
| 6.10 Mhs | 100 core / 0 mem | TDP - 80% | 280 Watt |
| 6.12 Mhs | 100 core / 400 mem | TDP - 80% | 280 Watt |
NB Miner - Sero - ProgPoW-Sero
| 46.88 Mhs | 0 core / 0 mem | TDP - 100% | 345 Watt |
| --- | --- | --- | --- |
| 40.2 Mhs | 0 core / 0 mem | TDP - 80% | 280 Watt |
| 40.52 Mhs | 100 core / 0 mem | TDP - 80% | 280 Watt |
| 40.10 Mhs | 100 core / 400 mem | TDP - 80% | 280 Watt |
CryptoDredge - RYO - Cryptonight_GPU
| 4405 Hs | 0 core / 0 mem | TDP - 100% | 340 Watt |
| --- | --- | --- | --- |
| 4252 Hs | 0 core / 0 mem | TDP - 80% | 280 Watt |
| 4282 Hs | 100 core / 0 mem | TDP - 80% | 280 Watt |
| 4255 Hs | 100 core / 400 mem | TDP - 80% | 280 Watt |
NBMiner - Aeternity / Bittube Cash - CuckooCycle
| 10.98 Mhs | 0 core / 0 mem | TDP - 100% | 325 Watt |
| --- | --- | --- | --- |
| 10.28 Mhs | 0 core / 0 mem | TDP - 80% | 280 Watt |
| 10.48 Mhs | 100 core / 0 mem | TDP - 80% | 280 Watt |
| 10.42 Mhs | 100 core / 400 mem | TDP - 80% | 280 Watt |
Gminer - Aeternity / Bittube Cash - CuckooCycle
13.88 G/s 0 core / 0 mem TDP - 100% 335 Watt