Vosk got me into crypto 3 years ago watching his videos. I started with a 6 card rx570 4 gb rig on nice hash then smos. In the summer of 2018 I stopped because value had gone down so much. During this whole time I had oversized my solar to compensate for mining and household use. This December I ended up with a 6.5 megawatt credit from the past few years that for some reason my net metered power company hadn't paid out. I was looking to burn it and started back up my 570's . As I saw their hashrate decreasing due to dag I needed more cards.
I turned to facebook marketplace and an hour away saw a 24 card 580 8gb rig for a decent amount. After a shrewd negotiation where seller said his lowest price, below what my max to pay, I picked it up. 12 sapphire nitro 580 8gb, 12 msi 8gb. Got one 6 card running immediately January 15th and then 5 days later all 4 up and running once my father(electrician) ran some 240 outlets for me. A few days later I lucked out on 2 5700xt on newegg, a buddy bought one for me so I could get another. A week later bestbuy had a msi 5700xt in store i bought before prices got jacked up.
All 24, 580 8gb are pulling 31.2-31.5, all 3 5700's pulling 51-52mhs with basic overclock not stressing them out, none over 55C. One aorus never ran right and crashed everytime so I had to RMA and still don't have it. I ran on ethermine for the rest of the month and up until feb 14th($400 away from rig ROI) which is when I started on 2miners ethereum solo pool using teamred miner and still on Simpleminer with no proxy. I had all the miners on the same configuration for 5 days with same worker name so all miners showed up as 1 worker on pool. After 5 days I created separate configs for each miner so it showed 5 workers. I have no clue if this made a difference. I only did this after looking through won blocks for past 5 days and seeing majority of won blocks had multiple miners.
Yesterday 2/24 I was talking to a buddy at 2:45pm about it and he offered to toss 365mhs on it to see what would happen. I told him I was stopping today and sure enough I got lucky at 12:11pm solving a block worth 4.544 eth. After pool fee of 1.5% my reward was 4.476 eth.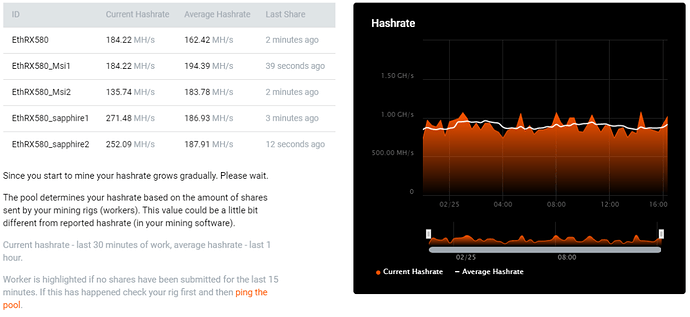 I only attempted this because of my ROI on my 24 card rig in a month and still had almost 4 megawatts of credit from solar to spend. My only cost were cards since they came with psu, MB, cpu, ram, risers, frame. If I didn't have the credit I would not have tried Solo mining. I will now continue to solo mine for another 20 days to see if I hit another or not. Either way I will still have doubled my expected return had I kept pool mining. I am adding an image of my power usage of one day in 15min increments during a good solar generation day.