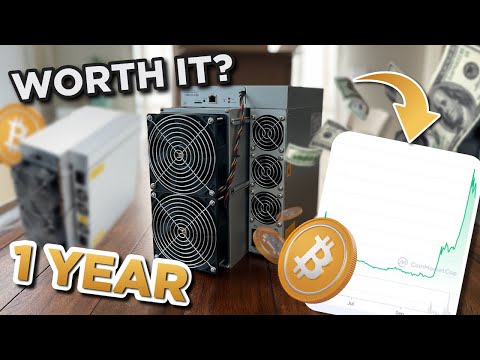 Spending $10,000s of Dollars on Bitcoin Miners Worth It This Year? Bitcoin miners are incredibly profitable, and I've spent over $100,000 dollars just building one of my Bitcoin mining farms, let's review if Bitcoin mining was worth it and Bitcoin mining profitability! Subscribe to VoskCoin - http://voskco.in/Sub
Get up to $250 for FREE with BlockFi - BlockFi | Get Up to $250 in Bonus BTC v2 10.26
Get $25 for FREE with CryptoCom - https://voskco.in/cryptocom
Compass the Bitcoin mining marketplace - Compass — Bitcoin Mining and Hosting
Learn more about Grandtime - Project Grand Time — all about cryptocurrency: price, reviews
Trade Bitcoin with PrimeXBT - https://voskco.in/primexbt
Helium hotspot miners are the best mining rigs to buy - Is this the BEST Helium Miner EVER? - YouTube
This is the best mining rig you can buy right now - https://voskco.in/b300
Bitcoin is more valuable than ever, and I've been mining Bitcoin full-time for over 4 years but I already talked about that in this video I mined Bitcoin full-time for over 4 years, here's what I learned - YouTube Today I am focused on specifically the last year that I have been mining Bitcoin and what the future of Bitcoin mining looks like along with has Bitcoin mining been worth it over the last year. Bitcoin mining rigs cost $10,000 or more depending on the BTC mining rig model, that's a lot of money, but Bitcoin miners have made Bitcoin millionaires and a lot of cryptocurrency investors earn huge passive income mining Bitcoin and other cryptocurrencies. Let's review what it was like mining Bitcoin over the last year and why I am planning to mine Bitcoin next year too!
Links!
Best Bitcoin miner in stock you can buy right now - https://voskco.in/s19j
Bitcoin mining network difficulty chart - difficulty
Bitmain official Antminer BTC miner shop - https://voskco.in/bitmain
Buy a used Bitcoin miner here - antminer s9 | eBay

Timestamps


00:00 Was it worth mining BTC in 2021?
01:41 Different types of people in crypto
04:10 Mining Bitcoin in 2021 - altcoins or BTC?
07:45 Why I'm mining BTC with my solar mining farm
11:26 Trade crypto & stocks with PrimeXBT
13:11 Risks of mining altcoins
15:19 Strategy to make money mining Bitcoin
16:38 Bitcoin mining over the last year
VoskCoinTalk the VoskCoin forum - VoskCoinTalk - Best cryptocurrency & blockchain forum
VoskCoin Facebook - Redirecting...
VoskCoin Reddit - https://www.reddit.com/r/voskcoin/
VoskCoin Discord Server Invite - VoskCoin
VoskCoin Twitter - https://twitter.com/VoskCoin
VoskCoin Instagram - Login • Instagram
Track: Poylow - Victory (feat. Godmode) [NCS Release]
VoskCoin is for entertainment purposes only and is never intended to be financial investment advice. VoskCoin owns or has owned cryptocurrency and associated hardware. VoskCoin may receive donations or sponsorships in association with certain content creation. VoskCoin may receive compensation when affiliate/referral links are used. VoskCoin is home of the Doge Dad, VoskCoin is not your Dad, and thus VoskCoin is never liable for any decisions you make.
Spending $10,000s of Dollars on Bitcoin Miners Worth It This Year?