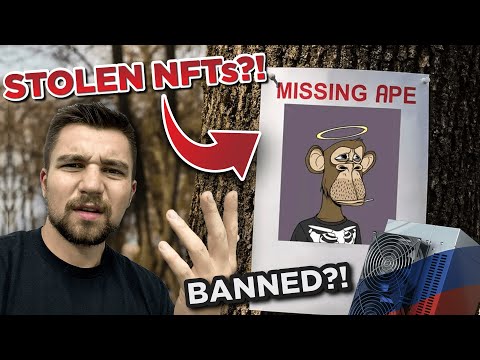 Actor Seth Green's Bored Ape NFT was stolen - and has now derailed his TV show plans?! BTC mining in Russia is facing heavy regulation and BTC price predictions go lower?! Today we have some insane crypto news, so subscribe to VoskCoin for the best crypto content! http://voskco.in/Sub
Energi NRG is building a safer DeFi and NFT blockchain! Energi - The Safest Blockchain for DeFi & NFTs
Get $50 to trade with when you sign up to Margex - Margex – Trade ₿ Bitcoin With up to 100x Leverage | Crypto Futures Trading
Get $250 for free using BlockFi! https://voskco.in/blockfi
Scams and hackers are an unfortunate problem with crypto and the NFT space - and even celebrities are not immune to it! Seth Green had his Bored Ape NFT was stolen in a phishing attack, which has now caused copyright issues with his new show that was set to star the BAYC NFT. Russia is also passing regulation regarding Bitcoin mining that could lead to some serious consequences for miners in Russia as well as mining farms based out of Russia. Find all this, and more, including Bitcoin (BTC) trading and price prediction news, in today's video!
Should you mine crypto in 2022? - Should You Mine Crypto in 2022? - YouTube
Set up your own Energi NRG node - Energi 3.0 NRG Staking Guide! We are earning $36 DAILY?! - YouTube
Check out our crypto passive income video guide! - Earning $2000 A MONTH?! Staking Cryptocurrency | Passive Income W/ NRG and Crypto Earn - YouTube

Timestamps


00:00 Popular NFT stolen?
01:53 Popular NFTs stolen by scammer
03:49 Energi secures $50 Million in investment
05:54 Energi launching NFTs on their chain
07:19 UST/LUNA lawsuits
08:26 Do Kwan in serious trouble?
09:36 Some troubling information leaked
10:36 Coinbase becomes first Fortune 500 crypto company
12:57 Russia updates crypto mining bill
15:28 Crazy Bitcoin predictions
19:54 Crypto status report
All the VoskCoin links you need in one spot! VoskCoin | Linktree
VoskCoin is for entertainment purposes only and is never intended to be financial investment advice. VoskCoin owns or has owned cryptocurrency and associated hardware. VoskCoin may receive donations or sponsorships in association with certain content creation. VoskCoin may receive compensation when affiliate/referral links are used. VoskCoin is home of the Doge Dad, VoskCoin is not your Dad, and thus VoskCoin is never liable for any decisions you make.
Stolen NFTs?! BTC Mining COLLAPSE in Russia?! Latest Crypto News