INTRO
About a week ago i came across a brave browser advertisement that mentioned swash so i said what could this be and clicked on the humble notification . After a few seconds i ended up on the swash app home page and started reading about how they plan on keeping your data safe and paying you in return and also a mention of a browser extension and a brave browser logo so i said why not let me give this project a go .
What Is Swash
Well swash simply pays you as you browse anything inside your browser and that data is sent encrypted through streamr. Note private data is not taken at all.(ill try explaing more below).
We operate off the open-source technology built by Streamr, whose decentralized and end-to-end encrypted infrastructure means that trust and transparency are built into its design.
Then what is Streamr can it be trusted ?
What is Streamr ?

Streamr is a open source peer-to-peer network with scalable crowd sourced data sets known as Data Unions. So the data is stored as data sets which can later be used for various other projects on ETH platform. And for this contribution you are paid in DATA coin and yes even though Streamr is a smart contract on ETH it allows you to create apps with in the smart contract that's wild. They got docs if you want to develop

something else using streamr.
DATA coin
it is a ERC20 token made by streamr and is rewarded to you via the Swash browser extension when you contribute datasets to a Data Union .
Currently the coin in worth $0.03682524 and trading on Binance i hope to see it get listed as more people join in

Lets Get Started
Step 1 :- go to https://swashapp.io/referral/3788
Step 2:- follow the steps and create an account
Step 3 :- Forget about it and do your daily tasks
That's it nothing more , its a good passive way to earn money with brave browser or any other browser .
The Test
I downloaded the extension and started the test to see if its actually worth . Day one passes and i said to my self well i didn't do that much of a searching in the first place and gave it a second chance the next day nothing happened not even 1 Data coin so i went over to the telegram channel and they pointed me to one of the devs so i sent him my newly generated ETH address and he said everything will be fine its just latency of streamr so don't expect lightning speeds , so long story short i got paid but i didn't withdraw because of the gas fees .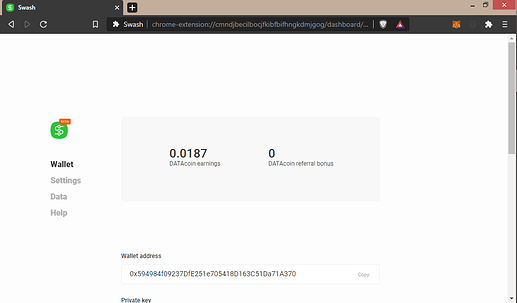 Around 0.0006886275$ was made fooling around so it is possible to be profitable passively
Conclusion
Some people are very concerned about sharing data thinking it might get stolen but the people backing the project say other wise , Chain link , Streamr ,3 Box and other companies are backing the project with peer to peer encryption .If that doesn't convince you then this project isn't for you however If you like the idea of the project and want to try it use my affiliate link above so i can try more projects in the future.



Happy new year