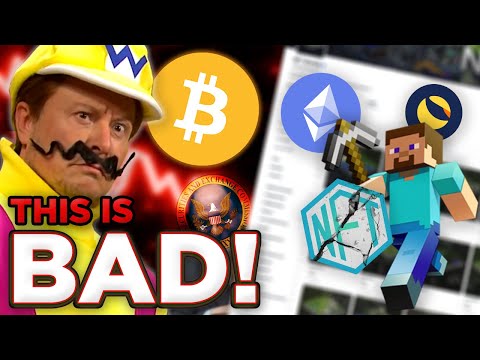 Do Elon Musk and Tesla have paper hands?! New reports show they sold almost $1 Billion of their Bitcoin holdings. Minecraft bans NFTs and prosecutors raid crypto exchanges in Korea?! Crypto is insane as always - you better sub! https://voskco.in/Sub
FTX cryptocurrency exchange - FTX.US & FTX Sign-Up Bonuses — $15 free, 5% off fees & FREE Crypto! - VoskCoin - Medium
Cryptocurrency never seems to slow down - even in a bear market, there is so much happening and so much to keep track of! Bitcoin selloffs, NFT bans, full-on raids, hacks and legal nonsense are all headlines from just the last week. Does Tesla plan to sell more of their Bitcoin? Will Minecraft really ban NFTs and blockchain? What is the update on the Korean probe into Terra and Luna? Crypto exchanges are still pausing withdrawals, and NFTs are continuing to be scrutinized and hacked! Let's dive into the latest crypto news!

Crypto News


Tesla sold over $900 million in BTC! - Tesla sold $936 million in bitcoin in the second quarter
Minecraft bans NFTs and blockchain integration?! - Minecraft developer Mojang to restrict use of NFTs, blockchain tech with guideline update
The future of crypto regulation as SEC goes to Congress - Crypto enforcement takes center stage in SEC appearance before Congress
Hacked NFT holders receive $500k back from Premint - Premint to Return $500K in Ethereum to NFT Hack Victims - Decrypt
Prosecutors raid crypto exchanges with ongoing Terra probe - Korean Prosecutors Raid Crypto Exchanges in Terra Probe - Decrypt
Officials need to report their NFT holdings now?! - US federal agency issues legal advisory on NFT investments
If you want to thrive this crypto winter, watch our FULL bear market survival guide! - How to Survive A Crypto Bear Market | Full Guide - YouTube
Governments continue to crack down on crypto mining? - Governments are CRACKING DOWN on Bitcoin, Crypto, and Mining! - YouTube
Want to start mining crypto? Do this! - Want to Start Mining Crypto? Do THIS! | How To Mine Guide - YouTube

Timestamps


00:00 Will this make you capitulate?
00:53 Does Elon Musk have paper hands?
03:00 Minecraft bans NFTs!
04:42 New stupid SEC crypto rules?
06:22 Premint hack returns $500K to victims
07:00 Korean prosecutors Raid Crypto Exchanges!
08:33 Zipmex pauses Withdrawals
09:41 NFT investments under scrutiny
10:37 SEC criticized by congressman Brad Sherman
11:47 Bad news now but good news in the future?
Follow us on our official social media accounts! - VoskCoin | Linktree
VoskCoin is for entertainment purposes only and is never intended to be financial investment advice. VoskCoin owns or has owned cryptocurrency and associated hardware. VoskCoin may receive donations or sponsorships in association with certain content creation. VoskCoin may receive compensation when affiliate/referral links are used. VoskCoin is home of the Doge Dad, VoskCoin is not your Dad, and thus VoskCoin is never liable for any decisions you make.
Tesla Sold $900 MILLION BTC?! Minecraft BANS NFTs! BREAKING Crypto News