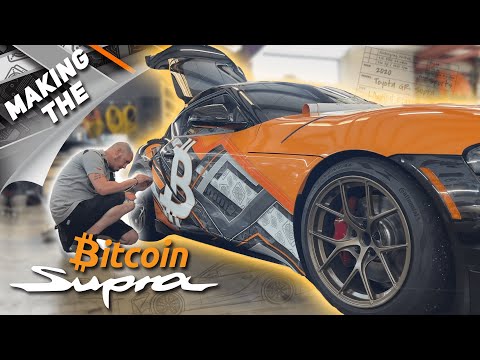 The Bitcoin Supra is a highly modified Toyota Supra track car built for time trials and racing merged with a fully custom Bitcoin vinyl wrap livery. Here is how the VoskCoin Bitcoin Supra was designed and evolved from render to reality. Sub! http://voskco.in/Sub
Cinematic trailer of the Bitcoin racecar! The Bitcoin Supra - YouTube
BlockFi helped make the Bitcoin Supra by VoskCoin possible! BlockFi Partner Promo | 7.8.22 T
Get a cryptocurrency car wrap from Illusions Wraps - Illusions Wraps - Custom Vehicle Wraps Fredericksburg VA
The VoskCoin Bitcoin Supra will compete in GRIDLIFE! #GRIDLIFE
Years ago Dogecoin banded together pooling a bunch of DOGE to sponsor a NASCAR Racecar with a custom Dogecoin design. This inspired many cryptocurrency users and investors, so later a Bitcoin F1 racecar was sponsored with to be honestly an incredibly lame BTC livery. The Bitcoin Supra by VoskCoin is Drew Vosks personal Toyota Supra track car built to compete in grassroots racing, specifically time trials in organizations like Grid.Life, SCCA, NASA, and others is now adorned with indisputably the coolest Bitcoin car ever. A purpose built Bitcoin racecar designed with one of the fastest and most competitive track cars available now, specifically built to the Gridlife street gt class. Let's take a walk through Illusions Wraps a fully custom design and vinyl wrap shop out of Fredericksburg, Virginia that VoskCoin worked in tandem with Brian McGuire owner and design guru of Illusions Wraps to create a dedicated Bitcoin vinyl wrap livery sporting tech motherboard designs, BTC lightning network, a big Bitcoin B, and even Bitcoin ASIC miners woven into the design!

Timestamps


00:00 The Bitcoin Supra by VoskCoin
01:07 Illusions Wraps tour
04:28 Hidden details on the Bitcoin Supra
12:06 Designing the Bitcoin Supra
27:51 Finalizing the wrap designs
32:15 Challenges while building the Bitcoin Supra
37:00 The Bitcoin Supra!
Follow us on our official social media accounts! - VoskCoin | Linktree
VoskCoin is for entertainment purposes only and is never intended to be financial investment advice. VoskCoin owns or has owned cryptocurrency and associated hardware. VoskCoin may receive donations or sponsorships in association with certain content creation. VoskCoin may receive compensation when affiliate/referral links are used. VoskCoin is home of the Doge Dad, VoskCoin is not your Dad, and thus VoskCoin is never liable for any decisions you make.
The Making of the Bitcoin Supra | Render to Reality