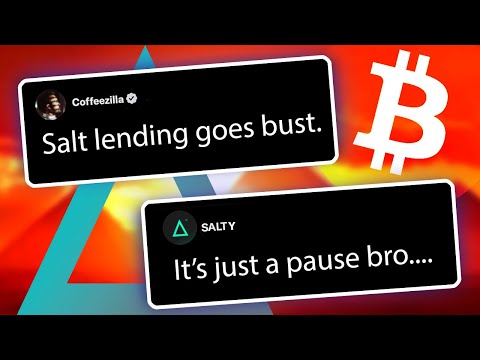 SALT Lending halts cryptocurrency and fiat withdrawals and is leaving their customers with no updates. Could they be the next crypto lender to announce bankruptcy? Let's take a look at everything we know about the current state of SALT lending. Subscribe - https://voskco.in/sub
Buy a trezor and hold your own coins - https://voskco.in/trezor
Buy a ledger and hold your own coins - Ledger Nano X - Secure your crypto | Ledger
SALT Lending offers loans backed by crypto as well as a crypto credit card. They are set up very similarly to other crypto Earn programs that have recently fallen (FTX, BlockFi, Gemini/Genesis, Celsius, Voyager, etc.). SALT recently halted withdrawals and has been silent on Twitter, leaving their users with no updates. The lending platform previously touted its security and safety of user funds by saying "We offer peace of mind…and you can't put price on that!" Let's break down their business model, and review some previous statements made by SALT CEO, Shawn Owen. Are they as safe as they claim to be?
Links
Email to SALT Users: https://twitter.com/coffeebreak_YT/status/1592567205727961089
Initial Potential Acquisition with BnkToTheFuture: We're excited to announce a potential acquisition by Bnk To The Future - SALT Lending | Bitcoin & Crypto-Backed Loans
BnkToTheFuture Drops SALT LOI: Online Investing Platform BnkToTheFuture Drops Plan to Acquire Crypto Lender Salt Lending Due to FTX Exposure
SALT Settlement with SEC: SALT Lending Reaches Settlement with the U.S. Securities and Exchange Commission | by Salt Lending Medium | Medium
"We offer peace of mind" at SALT: https://twitter.com/SALTLending/status/1557714457127800832/photo/1
Simon Dixon + SALT: https://twitter.com/chris52508387/status/1592901796019990528?s=46&t=SAI7m-bh-Hot37HGkdUCcA

Timestamps


00:00 Another crypto lender goes bust?
01:07 Salt lending raised millions of dollars during ICO
02:38 Salt lending and the Security Exchange Commission
04:25 How much risk can you take as a crypto lender according to CEO Shawn Owen
06:22 Is SALT lending a ponzi scheme?
07:25 FTX Contagian keeps wrecking the Crypto sector
08:47 What is the SALT token?
09:10 Celsius, Voyager, Bank to the Future and SALT lending
11:44 Weird social media behaviour
12:26 Will SALT Lending go Bankrupt?
Follow us on our official social media accounts - VoskCoin | Twitter, Instagram, Facebook | Linktree
VoskCoin is for entertainment purposes only and is never intended to be financial investment advice. VoskCoin owns or has owned cryptocurrency and associated hardware. VoskCoin may receive donations or sponsorships in association with certain content creation. VoskCoin may receive compensation when affiliate/referral links are used. VoskCoin is home of the Doge Dad, VoskCoin is not your Dad, and thus VoskCoin is never liable for any decisions you make.
The Next Cryptocurrency Lender TO GO BANKRUPT? SALT