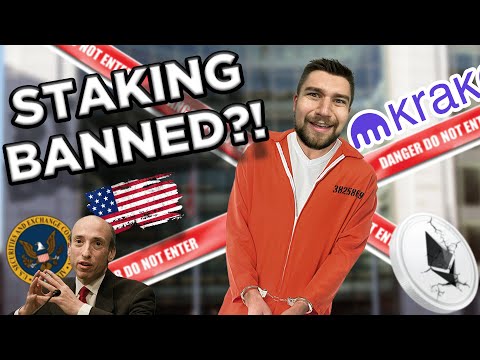 The USA is BANNING crypto staking WTF yes if you are staking cryptocurrency you're on track to be a criminal… right now the SEC is fining Kraken for millions of dollars, and has Coinbase in their crosshairs, individual stakers are surely next… Subscribe to VoskCoin - http://voskco.in/Sub
This is the best crypto thing you can buy in 2023 - Evergreen
Learn more about it in this Miss Vosk article! The Best Cryptocurrency Miner for 2023 | by Miss Vosk (Alexa) | VoskCoin | Feb, 2023 | Medium
Kraken cryptocurrency exchange - https://voskco.in/kraken
Coinbase cryptocurrency exchange - https://voskco.in/coinbase
This is a scary time in cryptocurrency as the securities and exchange commission continues their maniacal campaign to strip cryptocurrency users and investors of their abilities as well as rights along with punishing the cryptocurrency exchanges like Kraken that have been fine while they did NOT protect us from SBF FTX or Alameda… oh how ironic is it that Gary Gensler adored sam bankman-fried but hates the crypto exchanges that have actually done right by the average crypto user. Voyager bankruptcy and Binance US update, LocalBitcoins is closing down, CoinTelegraph is selling NFTs and more in the latest crypto news today.

Timestamps


00:00 The US is banning crypto staking!
00:45 Brian Armstrong tweets about staking
01:35 Kraken $30M Staking fine
02:25 Did the Kraken prohibition affect me?
03:00 This could mean they can prohibit staking
05:44 Mine Chia with the HDDs
06:13 Us Residents are barred from a Bankruptcy claim
06:41 Kraken got fine for not "declaring" the Staking?!
07:48 Gary Gensler got an exception for SBF
08:12 Are they going to return the money that they fine?
08:36 Voyager will need a Binance US Account to get the funds back!
09:10 LocalBitcoins Closes down p2p crypto services
10:30 You can buy a Cointelegraph article as an NFT?
VoskCoin social media, Discord, and forum - VoskCoin | Twitter, Instagram, Facebook | Linktree
VoskCoin is for entertainment purposes only and is never intended to be financial investment advice. VoskCoin owns or has owned cryptocurrency and associated hardware. VoskCoin may receive donations or sponsorships in association with certain content creation. VoskCoin may receive compensation when affiliate/referral links are used. VoskCoin is home of the Doge Dad, VoskCoin is not your Dad, and thus VoskCoin is never liable for any decisions you make.
The USA is BANNING Crypto Staking WTF