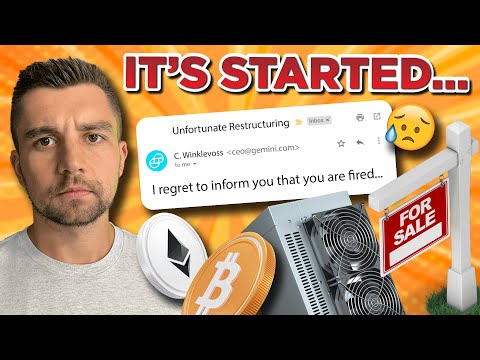 Is this the worst crypto bear market yet? Gemini is firing 100s of workers, blockchains are down, miners are losing profitability, and $500 Million is up for grabs in Web3?! Today we have some insane crypto news, so subscribe to VoskCoin for the best crypto content! http://voskco.in/Sub
Get 5% off your fees and $15 for FREE when you trade $100! - https://voskco.in/ftx
Trade on Biswap and get gas fees back! - Biswap
Trade on Gemini and get $25 for free - Cryptocurrency Exchange to Buy Bitcoin and Ether | Gemini
Trade on Coinbase and get $10 for free - https://voskco.in/coinbase
Has the worst bear market in history finally arrived? Coins are crashing left and right, bears are out in full force, and inflation has gone through the roof! With some crypto corporations firing 100s of their workers, it's vital to understand what is going on in the markets at the moment to avoid being rekt. Is mining still worthwhile in this environment? Has Helium (HNT) mining completely destroyed itself? Despite all of this, there is still A LOT of money to be made in crypto, and finding work in Web 3 could be a life-changing opportunity! Today we recap the most recent crypto news, and find out if we are indeed in a bear market!
Learn how to use Biswap with our full guide - How to Use Biswap - BEST DEX on BNB Chain! Full Guide - YouTube
How to Claim the Optimism OP airdrop - How to Claim FREE $1000 Crypto Airdrops | OP Optimism - YouTube
Should you mine crypto in 2022? - Should You Mine Crypto in 2022? - YouTube
Make Easy Passive Income in the bear market - EASIEST Ways to Earn Passive Income With Crypto! - YouTube
Does Helium mining suck now? - Helium Mining SUCKS NOW - YouTube

Timestamps


00:00 Good News about mining rigs
01:07 Gemini fires 10% of their workforce!
02:41 CFTC suing Gemini
04:22 Solana halted again?!
04:52 Helium sucks now
05:42 FTX overtaking Coinbase?
07:43 Technologists send anti-crypto letter to Washington
09:33 Optimism token price DUMP
10:10 Elon Musk Doge Drama!
10:50 Binance Labs invests $500 million in Web3
11:28 BSC vs ETH blockchains
14:15 Best BSC DEX - Pancakeswap vs Biswap
17:15 Goldshell restocks on miners
Follow us on our official social media accounts - VoskCoin | Linktree
VoskCoin is for entertainment purposes only and is never intended to be financial investment advice. VoskCoin owns or has owned cryptocurrency and associated hardware. VoskCoin may receive donations or sponsorships in association with certain content creation. VoskCoin may receive compensation when affiliate/referral links are used. VoskCoin is home of the Doge Dad, VoskCoin is not your Dad, and thus VoskCoin is never liable for any decisions you make.
The WORST Bear Market In HISTORY?! Insane Crypto News