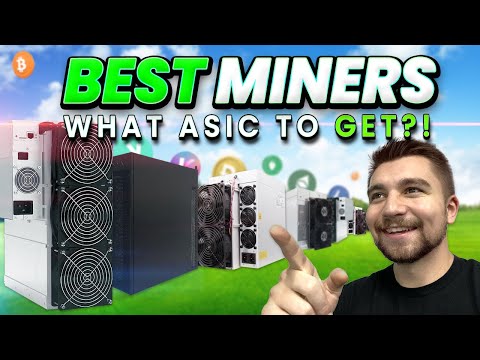 Bitcoin miners are ASIC miners, but there are other ASICs for mining many different cryptocurrencies like Dogecoin miners, incredibly profitable Kaspa miners, and even a new Monero ASIC CPU miner, let's review the best mining rigs to buy right now! I am buying this one! shop – Evergreen
HDD miners are my actual favorite miner this year - shop – Evergreen
Jusey also makes a hard drive miner - JuseyMiners Chia Miner
Crypto Miner Bros sells ASIC miners! https://voskco.in/CMB
IMPORTANT! Use code VOSKCOIN to save some coin!
Mining Rig Marketplace classifieds on VoskCoinTalk! Marketplace - VoskCoinTalk
New and Used mining rigs for sale - goldshell miner for sale | eBay
Bitmain official ASIC web shop - BITMAIN Shop

Timestamps


00:00 Best miners to buy right now
00:55 Minable coin emissions
01:34 Mining DogeCoin
02:57 KASPA and Chia emissions
03:44 Tails Edition Chia miners
04:35 Miners from Bitmain
07:23 Mining KASPA
08:45 Mining Bitcoin
12:24 Mining Monero
14:40 Mining Ethereum Classic
16:53 Market condition for mining
19:39 Should you buy a Bitcoin miner?
21:11 Should you buy a DogeCoin miner?
21:59 Should you buy a Dash miner?
22:33 Should you buy a Nervos CKB miner?
23:36 Should you buy a Kadena miner?
VoskCoin social media, forum, and discord! VoskCoin | Twitter, Instagram, Facebook | Linktree
VoskCoin is for entertainment purposes only and is never intended to be financial investment advice. VoskCoin owns or has owned cryptocurrency and associated hardware. VoskCoin may receive donations or sponsorships in association with certain content creation. VoskCoin may receive compensation when affiliate/referral links are used. VoskCoin is home of the Doge Dad, VoskCoin is not your Dad, and thus VoskCoin is never liable for any decisions you make.
These are the BEST ASIC Miners to BUY Right Now