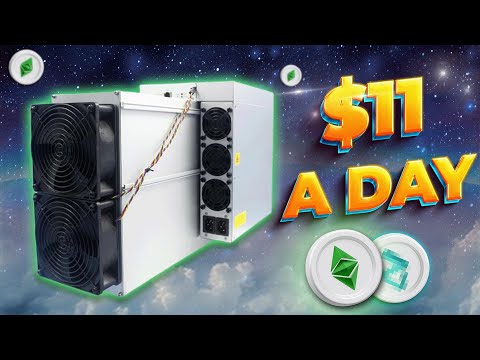 Bitmain just released a cheap ASIC mining rig that earns $11 per day, and only costs $1,200. That is a lot of passive income with cryptocurrency for a very low price point. Let's review how! Best Crypto Miner to buy in 2023 review - The Best Cryptocurrency Miner for 2023 | by Miss Vosk (Alexa) | VoskCoin | Feb, 2023 | Medium
Earn $70+/month in Passive Income with Evergreen - Evergreen
Beginner-Friendly Crypto CEX, CryptoUnity - https://cryptounity.org/
Check out ASIC miners available with CoinMiningCentral - Coin Mining Central - UK Cryptocurrency Mining Hardware Supplier
CryptoMinerBros is another ASIC Reseller we recommend! https://voskco.in/cmb
Check out this ASIC Reseller, Casa Miners! - Casa Miners ® – Casa Miners ®
Order a Bitcoin miner on here! antminer s19 for sale | eBay
Bitmain recently announced the release of the Antminer E9 Pro, which is an Ethereum Classic (ETC) ASIC Miner. Projections show that this miner is supposed to make $11/day, and the miner only costs $1300 USD. Since it's ETC, some of your profits may be cut by electric costs, but if the Bitmain adds dual mining it could potentially increase its profitability even more. Unfortunately, the E9 Pro is sold out on Bitmain, as well as a lot of major ASIC reseller sites, but it's supposed to come back in stock soon. This miner might be one to watch if you're interested in mining ETC. In today's video we'll break down the E9 Pro's potential mining profitability, compare the miner to the Forest Miner (another recent ETC ASIC miner we've recently reviewed), and share some of our recommended ASIC Resellers where you can purchase miners confidently.
Check out our full review of the Forest Miner here! - Make Your Ethereum Miners Profitable Again - +$17 A DAY In Passive Income - YouTube
Get $160 off the Forest Miner with code VOSKCOIN - https://voskco.in/forestm
K1Pool is the BEST ZIL ETC dual mining pool - Create account - K1Pool.com ⛏ Multicoin Mining Pool
Buy miners directly from Bitmain - BITMAIN Shop

Timestamps


00:00 Mine $11 a day?
01:19 Bitmain Antminer E9 Pro
02:33 How profitable is mining right now?
04:46 Tips to mine efficiently
07:45 How to get an Antminer E9 Pro
09:15 How profitable is ETC mining right now?
10:30 Antminer E9 Pro mining profitability
12:51 Is the Antminer E9 Pro worth it?
Follow us on our official social media accounts! - VoskCoin | Twitter, Instagram, Facebook | Linktree
Subscribe to VoskCoin for more passive income tips! VoskCoin - YouTube
Follow VoskCoin on TikTok for more shorts! https://voskco.in/tiktok
VoskCoin is for entertainment purposes only and is never intended to be financial investment advice. VoskCoin owns or has owned cryptocurrency and associated hardware. VoskCoin may receive donations or sponsorships in association with certain content creation. VoskCoin may receive compensation when affiliate/referral links are used. VoskCoin is home of the Doge Dad, VoskCoin is not your Dad, and thus VoskCoin is never liable for any decisions you make.
This $1,200 Miner Earns $11 PER DAY! Bitmain Antminer E9 Pro Overview!