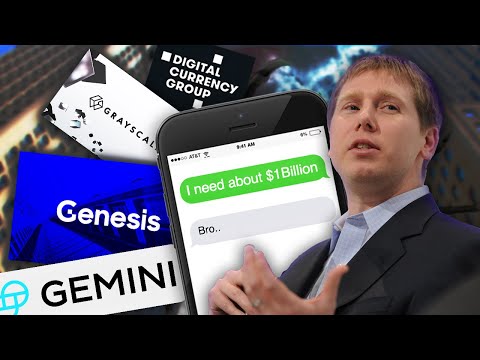 Genesis Trading, owned by one of the biggest crypto firms Digital Currency Group, has publicly requested a loan of $1 Billion in order to stay liquid! If DCG and Genesis Trading don't get these funds, it could leave crypto investors without their funds temporarily or even rugged forever. FTX Contagion continues thanks SBF. Sub! https://voskco.in/sub
Direct link to Gemini - Crypto Exchange | Gemini
Direct link to Genesis Trading - https://genesistrading.com/
Direct link to Digital Currency Group DCG - https://dcg.co/
FTX collapsed, and here's what YOU need to know - FTX a Ponzi Scheme Scam by SBF With HUGE TIES to US Government? - YouTube
FTX and FTX US are a ponzi scheme by SBF - FTX is turning out to be the biggest PONZI SCHEME SCAM EVER - YouTube
Is Gemini Earn the next lending program to go bankrupt? -
MORE HALTED CRYPTO WITHDRAWALS?! WTF Gemini Earn and Genesis Trading - YouTube
With Genesis Trading, the primary source of interest for many crypto lending programs, having requested a loan of a staggering $1 Billion, are they in more trouble than we realize? Gemini Earn halted withdrawals, and it is because of Genesis Trading not having the liquidity they need to fulfill these withdrawal requests… What does the future of cryptocurrency look like if Genesis and DCG end up bankrupt or insolvent? Let's take a deep dive into the situation around Genesis and its complicated web of associated crypto companies and products.
Thanks a lot Sam Bankman-Fried and FTX the biggest ponzi scheme scam ever…
Keep your crypto safe in cold storage!
Trezor - https://voskco.in/trezor
Ledger - Ledger Nano X - Secure your crypto | Ledger

Read the investigation threads here:


Revealing Genesis $1B loan request - https://twitter.com/twobitidiot/status/1593292793581113345?s=20&t=vVsk3MI4cfcP0EGzMr0Lgg
Genesis updates regularly on their Twitter timeline -
https://twitter.com/GenesisTrading/status/1590391027214725120
https://twitter.com/GenesisTrading/status/1590836594382032896
https://twitter.com/GenesisTrading/status/1592867198900768769
Grayscale break down their exposure to FTX -
https://twitter.com/Grayscale/status/1592882142169944065
Watch Coffeezilla's video on the Genesis situation for extra insight -
I Predicted the Collapse of a Billion Dollar Company - YouTube
Grayscale crypto holdings that could end the market if liquidated - https://twitter.com/mhonkasalo/status/1593372448430358531?s=46&t=jIbD-hqlGb8hYZ06adPV2w
What this Genesis situation could do to the market -
https://twitter.com/DylanLeClair_/status/1592960066293927937

Timestamps


00:00 SBF FTX BlockFi Gemini & Genesis all connected
00:40 Gemini halting Gemini Earn redemptions
01:29 Genesis impacted heavily
02:45 Grayscale also in trouble?
03:42 Digital Currency Group also in trouble?
04:26 DCG is a huge company
05:44 Grayscale GBTC is trading below premium!
08:10 MicroStrategy has the biggest bag of GBTC
09:55 Binance not affected?
11:00 Illiquid or insolvent?
12:11 Digital currency group is seeking 1 Billion dollars
13:14 Be kind to your fellow crypto enthusiasts!
Follow us on our official social media accounts - VoskCoin | Twitter, Instagram, Facebook | Linktree
VoskCoin is for entertainment purposes only and is never intended to be financial investment advice. VoskCoin owns or has owned cryptocurrency and associated hardware. VoskCoin may receive donations or sponsorships in association with certain content creation. VoskCoin may receive compensation when affiliate/referral links are used. VoskCoin is home of the Doge Dad, VoskCoin is not your Dad, and thus VoskCoin is never liable for any decisions you make.
This Crypto Company Needs 1 BILLION DOLLARS OR IT IMPLODES…