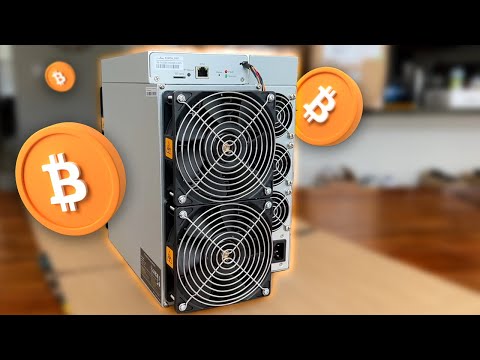 This is the most powerful Bitcoin miner we've ever gotten! With a hash power of over 110 TH/s, and the Bitcoin difficulty rising, is this miner worth it? We'll do a complete setup walkthrough and profitability breakdown of the Bitmain S19 Pro Miner today! Subscribe! https://voskco.in/Sub
Get the in-stock S19Pro from CoinMiningCentral - Coin Mining Central - UK Cryptocurrency Mining Hardware Supplier
Buy, sell, and trade Bitcoin BTC on FTX! FTX.US & FTX Sign-Up Bonuses — $15 free, 5% off fees & FREE Crypto! - VoskCoin - Medium
The Bitmain S19 Pro miner is mining at over 110TH/s, and with the current Bitcoin (BTC) difficulty rising, this miner might only be profitable for those with low electric rates. In today's video, I'll go through step by step how to set up the S19Pro, along with a complete breakdown of the miner profitability short term, and potentially long-term. There are several options where you can purchase Bitcoin miners at low prices within the United States, including with CoinMiningCentral. Check out today's video review to hear our thoughts about the Bitmain S19 Pro.
Best BTC Mining Pools:
ViaBTC - https://voskco.in/via
Braiins Pool (previously Slush Pool) - Braiins Pool
F2Pool - F2Pool: Leading Bitcoin Mining Pool
Watch our initial review of the S19J Pro miner! - Mining Bitcoin with the Bitmain S19J Pro ASIC Miner! - YouTube
Check out our full crypto mining electricity power guide -
Bitcoin Crypto and GPU Mining Electricity Guide! - YouTube
How to set up an ASIC miner - How To Set Up an ASIC Miner - YouTube
Antminer series miners are also available directly from Bitmain - BITMAIN Shop

Timestamps


00:00 My most powerful Bitcoin miner ever!
01:28 How to set up your Bitmain S19 Pro
02:17 How much Hashrate does Bitmain S19 Pro have?
04:05 The state of Bitcoin mining today
05:00 Bitcoin difficulty is climbing!
06:48 Is BTC mining still profitable?
07:21 Where to buy bitcoin miners?
08:37 How much Bitcoin did I make?
09:50 How much did I make in USD?
10:40 Does it make sense to mine Bitcoin now?
12:19 Bitcoin mining is getting harder
Follow us on our official social media accounts - VoskCoin | Twitter, Instagram, Facebook | Linktree
VoskCoin is for entertainment purposes only and is never intended to be financial investment advice. VoskCoin owns or has owned cryptocurrency and associated hardware. VoskCoin may receive donations or sponsorships in association with certain content creation. VoskCoin may receive compensation when affiliate/referral links are used. VoskCoin is home of the Doge Dad, VoskCoin is not your Dad, and thus VoskCoin is never liable for any decisions you make.
This is My Most POWERFUL Miner Yet!