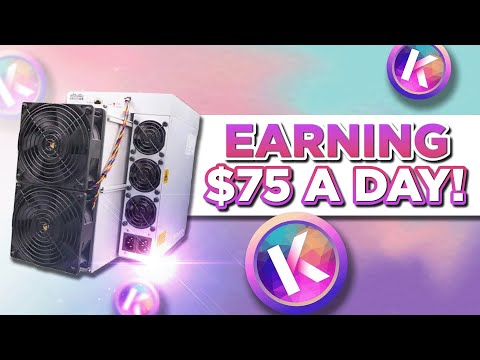 Kadena KDA miners have been some of the most profitable cryptocurrency miners in recent months - and this latest Antminer KA3 is no exception! It's earning $75 a day mining a coin that is down 90% from its all-time high! Let's review the Bitmain Antminer KA3! Sub! https://voskco.in/Sub
Buy Kadena ASICs online with CoinMiningCentral - Coin Mining Central - UK Cryptocurrency Mining Hardware Supplier
The KA3 is available for Bulk Orders only with Bitmain - BITMAIN Shop
Set up to mine with DXPool - DxPool, Worry-free mining
With the immense success of Goldshell's KD miner series, it seems Bitmain is out to take that market share for themselves! Their first-ever Kadena KDA miner, the KA3, is the most powerful KDA miner, as well as the most profitable miner in the world! Pulling over $60 a day (despite KDA being down over 90% from its all-time high) secures its spot as the reigning king of miners. But is it worth buying right now? Historically, it's always been best to buy the first batch of a newly released miner - but the mining landscape has changed. Let's review the KA3s hashrate, power usage and profitability, and whether I'd recommend buying the Bitmain Antminer KA3.
All of my Kadena KDA miners and their profitability - How I'm Earning $44 PER DAY and YOU CAN TOO! - YouTube
How to set up any ASIC miner - How To Set Up an ASIC Miner - YouTube
Our guide on how to set your home electricity up for mining cryptocurrency - Bitcoin Crypto and GPU Mining Electricity Guide! - YouTube

Timestamps


00:00 Is mining really dead?
01:52 Overview of Kadena mining
02:33 The Antminer KA3
04:08 Antminer KA3 specs
05:22 Why is Kadena interesting?
05:57 Antminer KA3 mining profitability
08:07 Should you buy a Kadena miner right now?
Follow us on our official social media accounts! - VoskCoin | Twitter, Instagram, YouTube, Facebook | Linktree
VoskCoin is for entertainment purposes only and is never intended to be financial investment advice. VoskCoin owns or has owned cryptocurrency and associated hardware. VoskCoin may receive donations or sponsorships in association with certain content creation. VoskCoin may receive compensation when affiliate/referral links are used. VoskCoin is home of the Doge Dad, VoskCoin is not your Dad, and thus VoskCoin is never liable for any decisions you make.
This Miner Earns $75 PER DAY in Passive Income!