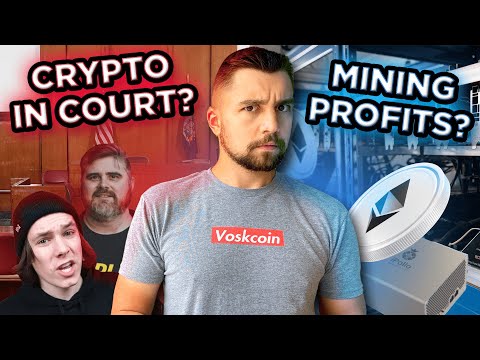 Here's everything you need to know about this week's bitcoin & cryptocurrency news! New lawsuits related to cryptocurrency influencers, mining profitability results are in, and other huge crypto news you CANT AFFORD to miss! Subscribe for more updates! https://voskco.in/sub
Get $10 for FREE and 5% off your trading fees with FTX! - FTX.US & FTX Sign-Up Bonuses — $15 free, 5% off fees & FREE Crypto! - VoskCoin - Medium
Use code VOSK100 to get $100 to trade on Margex - Enjoy a first-class user experience. We've got $100 worth of your fees covered!
Lots of legal action in this week's crypto news update. From Crypto YouTubers suing other YouTubers, to U.S. Representatives not claiming their cryptocurrency transactions, and several anti-crypto countries debunking crypto exchanges and advising their citizens not to use them. And is John McAfee still alive? On top of that, we see one of the biggest cryptocurrency exchanges, Coinbase, with a huge loss and moving over to a subscription-based model and we'll review some new claims about FTX. Finally, we'll wrap-up on the current status of the Ethereum (ETH) 2.0 Merge and Uniswap.
Crypto News -
BitBoy Crypto Sues Atozy - Crypto YouTuber Sues Fellow Influencer Who Dubbed Him 'Shady Dirtbag' - Blockworks
US Representative Fails to Claim Crypto Trades - Republican Representative Boebert Failed to Disclose Eight Crypto Trades in 2021 - Decrypt
Is Australia anti-crypto? Australia's Financial Watchdog Joins Government in Eyeing Fresh Crypto Regulations - Decrypt
Ontario Flags Unregistered Crypto Exchanges - Ontario Securities Commission Flags Kucoin, Other Crypto Firms as Unregistered - Decrypt
John McAfee Is Still Alive? - John McAfee Is Still Alive, Ex-Girlfriend Claims In Documentary - Decrypt
Coinbase Reports a $1.1B Loss - Coinbase CEO Says Exchange Is Cutting Costs, Focusing on Subscriptions - Decrypt
Is FTX still safe? - https://cointelegraph.com/news/fdic-ftx-spat-is-another-reason-for-investors-to-self-custody-their-funds
Devs find Bugs in Ethereum Merge - Ethereum Merge in trouble? Developers find bugs ahead of the planned update
The More Energy BTC uses, the better -The More Energy Bitcoin Uses, the Better

Timestamps


00:00 Latest Cryptocurrency News
00:46 Crypto Youtuber BitBoy sues Atozy
02:32 Republican Boebert failed to disclose 8 cypto trades!
03:00 Australia is eyeing crypto regulations
03:35 Ontario Securities Commission Flags Kucoin
04:31 Is John McAfee still alive?
04:54 Coinbase subscriptions
06:24 the FDIC Warns FTX!
08:27 Us Government Tornado Cash Ban
10:00 Ethereum ETH 2.0 merge
11:18 Trade with Leverage with Margex
14:03 American mining increases power capacity!
14:20 Crypto mining can benefit Texas energy industry
14:47 The more energy Bitcoin consumes the better
16:17 Uniswap establishes foundation for Open source devs
17:31 My mining profits with ETH miners
Follow us on our official social media accounts! - VoskCoin | Twitter, Instagram, YouTube, Facebook | Linktree
VoskCoin is for entertainment purposes only and is never intended to be financial investment advice. VoskCoin owns or has owned cryptocurrency and associated hardware. VoskCoin may receive donations or sponsorships in association with certain content creation. VoskCoin may receive compensation when affiliate/referral links are used. VoskCoin is home of the Doge Dad, VoskCoin is not your Dad, and thus VoskCoin is never liable for any decisions you make.
This Week's Crypto News - Everything You Need to Know