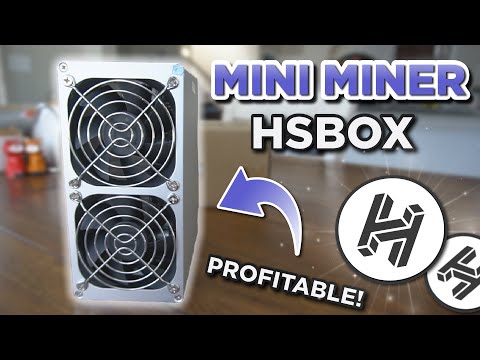 If you want to start earning passive income mining cryptocurrency then the BOX miners by Goldshell are some of the best miners you can buy. Let's review the HS-Box a mini Handshake HNS Siacoin SC mining rig! Subscribe to VoskCoin - http://voskco.in/Sub
Buy a Goldshell mining rig before they sell out! - https://voskco.in/goldshell
Cockapoo is aiming to disrupt the dog waste industry - https://voskco.in/cpoo
Compass sells Bitcoin miners - https://voskco.in/compass
Review the BEST Helium hotspot miners to buy - What is the BEST Helium Hotspot Miner to Buy? | by VoskCoin | VoskCoin | Medium
Buy the Bobcat Miner 300 best HNT miner - https://voskco.in/HNTb
If you want to buy the best miner in 2021 or you want to get rich mining cryptocurrency then great news YOURE ON THE BEST CRYPTO YOUTUBE CHANNEL BABY! Let's review the Goldshell HS-BOX ASIC mining rig, this mini miner mines Handshake HNS and Siacoin SC and to be honest I love these BOX miners from Goldshell, they look good, they're profitable mining rigs, and they can easily be controlled remotely. Let's review one of the best start miner rigs or a mining rig that's great for noobs and beginners but also residential at home crypto miners the HS Box by Goldshell!
Links!
Goldshell HS5 review and mining profitability - NEW Crypto Mining Rig EARNS $30 A DAY?! + YOU CAN BUY ONE!! - YouTube
Mini Doge Dogecoin miner review - PROFITABLE Mini Doge Miner! - YouTube
Goldshell Lb1 LBRY asic miner review - Mining at Home with a Goldshell LB1! Review & Tutorial - YouTube
Goldshell KD-BOX KDA ASIC miner review - MINI MINER that's QUIET and PROFITABLE! KD-BOX Review - YouTube
Goldshell HS1 PLUS Handshake HNS miner review - The BEST Crypto Miner for Mining at Home - Goldshell HS1-Plus - YouTube

Timestamps


00:00 HSBOX a profitable, tiny, and quiet mini mining rig
03:13 Goldshell HS-Box ASIC miner review
06:40 How much does the HS-BOX mini miner cost?
07:23 HS-Box is a great starter mining rig
08:15 Goldshell miners are the most profitable mining rigs to buy
09:10 How to set up your BOX mini miner HS-BOX
11:56 Configuring Luxor Mining Pool
15:06 Cockapoo $CPOO
17:54 Should you buy a crypto miner in 2021? HSBOX worth it?
VoskCoinTalk the VoskCoin forum - http://voskco.in/forum
VoskCoin Facebook - VoskCoin
VoskCoin Reddit - https://www.reddit.com/r/voskcoin/
VoskCoin Discord Server Invite - http://voskco.in/discord
VoskCoin Twitter - https://twitter.com/VoskCoin
VoskCoin Instagram - https://www.instagram.com/voskcoin/
VoskCoin is for entertainment purposes only and is never intended to be financial investment advice. VoskCoin owns or has owned cryptocurrency and associated hardware. VoskCoin may receive donations or sponsorships in association with certain content creation. VoskCoin may receive compensation when affiliate/referral links are used. VoskCoin is home of the Doge Dad, VoskCoin is not your Dad, and thus VoskCoin is never liable for any decisions you make.
Goldshell hs-box hns sc siacoin handshake ASIC mini miner review