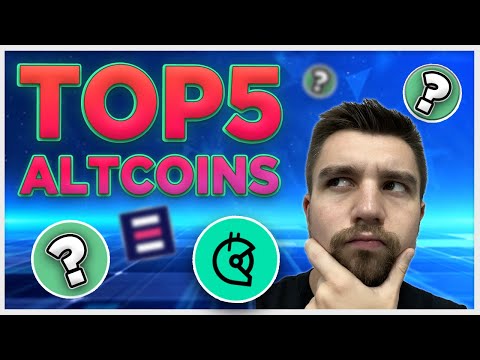 Let's review the top 5 cheap cryptocurrencies to buy right now, this isn't investment advice but I think these crypto tokens are undervalued and are on my cryptocurrency investing radar!
Subscribe to VoskCoin - http://voskco.in/Sub
Compass sells ASIC miners! https://voskco.in/compass
Learn more about Gitcoin GTC - https://voskco.in/gitcoin
Learn more about Tornado Cash TORN - https://voskco.in/tornadocash
Learn more about Unilayer LAYER - https://voskco.in/unilayer
Learn more about 1inch token - https://voskco.in/1inch
Learn more about WHEAT BSC token - https://voskco.in/wheat
Everyone is looking for the next big crypto coin or altcoin that will make them a millionaire by just investing a couple hundred bucks but being a cryptocurrency investor is harder than ever since there are more crypto tokens than ever before on countless blockchains now! Today we will be reviewing the top 5 cheap altcoins or the top 5 cheap cryptocurrencies to buy right now! We are going to be looking at Gitcoin and their GTC token the kickstarter of cryptocurrency and Tornado Cash and their TORN token bringing privacy to the Ethereum blockchain. Then we will be reviewing Unilayer and their LAYER token adding much needed functionality and trading tools to Uniswap the biggest decentralized exchange and speaking of DEXs lets review the leading DEX aggregator the 1inch platform and 1inch token and then the easiest and most profitable yield farm on the Binance Smart Chain with a $100,000 AUDIT and only a million dollar market cap the WHEAT token BSC yield farm!
Links!
Metamask review and tutorial 2021 - MetaMask Guide | BEST Ethereum Wallet for DApps and Smart Contracts - YouTube
Learn how to set up the Binance Smart Chain BSC wallet - Binance Smart Chain Overview & BSC Wallet Tutorial - YouTube
Set up MetaMask with BSC Binance Smart Chain and easily swap BNB tokens! - Metamask Binance Smart Chain Setup Guide & BNB to BSC easy swap! - YouTube
Uniswap review and tutorial - Uniswap 2021 Tutorial, Review, and UNI Price Prediction! 📈 - YouTube

Timestamps


00:00 Best top 5 cheap cryptocurrencies to buy
01:39 Number 1
05:31 Number 2
08:00 Number 3
12:24 Number 4
15:22 Number 5
17:34 $26,000 free crypto giveaway and top 5 coins to buy review
VoskCoinTalk the VoskCoin forum - http://voskco.in/forum
VoskCoin Facebook - Redirecting...
VoskCoin Reddit - https://www.reddit.com/r/voskcoin/
VoskCoin Discord Server Invite - http://voskco.in/discord
VoskCoin Twitter - https://twitter.com/VoskCoin
VoskCoin Instagram - https://www.instagram.com/voskcoin/
VoskCoin is for entertainment purposes only and is never intended to be financial investment advice. VoskCoin owns or has owned cryptocurrency and associated hardware. VoskCoin may receive donations or sponsorships in association with certain content creation. VoskCoin may receive compensation when affiliate/referral links are used. VoskCoin is home of the Doge Dad, VoskCoin is not your Dad, and thus VoskCoin is never liable for any decisions you make.
Top 5 CHEAP cryptocurrencies to Buy RIGHT NOW!