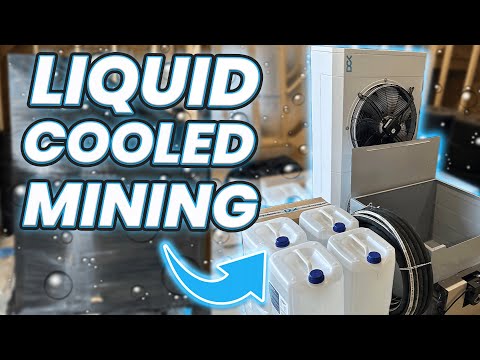 My DCX Immersion Bitcoin Mining tank is here, it's a complete solution to switch some of the VoskCoin Bitcoin mining farm to liquid-cooled Bitcoin mining! Will switching my BTC miners to immersion mining be worth it though? Start mining yourself today here - Evergreen Miner v2.5 VoskCoin Tails Edition
Watch a ~500 Antminer S19 DCX immersion farm video! https://youtube.com/playlist?list=PL4dnwHTjcf-8SXMDAoL7-XFkV6b4XUH3j&si=BD6oDOgXluoXOvnM
Learn more about DCX mining solutions - Home Immersion Mining Systems - DCX Liquid Cooling Company
Buy your own Bitcoin miners here - Most Trusted Cryptocurrency Mining Hardware Store - CryptoMinerBros
Evergreen plug and play low power miners! shop – Evergreen
Use code VOSKCOIN to save some COIN!
There are a lot of benefits to immersion mining, especially since Bitcoin mining profitability is lower than it used to be. Submersing your BTC mining rigs, like my Bitmain Antminer S19 ASIC miners in immersion fluid will lead to a longer lifespan of the mining rigs, increased hashrate, decreased noise, and less electricity consumption

Timestamps


00:00 Liquid cooled mining has landed
00:59 What is DCX Immersion system?
03:39 DCX Power Distribution Unit
06:37 VoskCoin mining shed status
08:42 How will I deploy my DCX Immersion setup?
Follow us on our official social media accounts - VoskCoin | Twitter, Instagram, Facebook | Linktree
VoskCoin is for entertainment purposes only and is never intended to be financial investment advice. VoskCoin owns or has owned cryptocurrency and associated hardware. VoskCoin may receive donations or sponsorships in association with certain content creation. VoskCoin may receive compensation when affiliate/referral links are used. VoskCoin is home of the Doge Dad, VoskCoin is not your Dad, and thus VoskCoin is never liable for any decisions you make.
Unboxing My DCX Immersion Bitcoin Mining System!