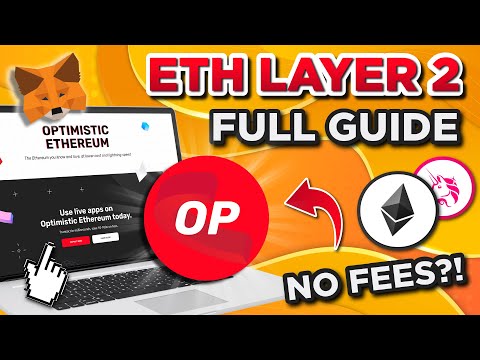 I've lost tens of thousands of dollars to Ethereum gas fees, yeah transactions are way too expensive on ETH but Optimism is a layer 2 solution to trade on Ethereum and Uniswap with NO GAS FEES! Subscribe to VoskCoin - http://voskco.in/sub
Helium miners are the best mining rigs to buy - What is the BEST Helium Hotspot Miner to Buy? | by VoskCoin | VoskCoin | Medium
Bobcat Miner 300 HNT miner is the BEST Helium miner to buy - https://voskco.in/HNTb
Compass the Bitcoin mining marketplace - Compass — Bitcoin Mining and Hosting
Optimism is really cool and a huge money-making tool if you use it properly because Uniswap the biggest decentralized exchange DEX on Ethereum is already supporting it in a HUGE way. The summary is that you can make trades for near-zero fees, and it's really easy other than just understanding the Ethereum to Optimism bridge. Let's review how to use Optimism the layer-2 solution for using and trading on Ethereum for free no gas transactions to help you make more money on Uniswap and any other dapps that support it!
Learn what MetaMask is and how to use it! MetaMask Guide | BEST Ethereum Wallet for DApps and Smart Contracts - YouTube
I invested over $7,300 into Uniswap – WHY?! I invested $7,300 into Uniswap | UNI Review and Price Prediction 🚀 - YouTube
Links!
Watch the best Uniswap review and tutorial - Uniswap 2021 Tutorial, Review, and UNI Price Prediction! 📈 - YouTube
Learn more about Gitcoin and airdrops here - http://voskco.in/gitcoin
Review up to date Uniswap liquidity pool earnings - LiquidityFolio | Find the best liquidity pools & track your returns on Uniswap, Curve, Balancer and Sushiswap
Trade tokens with no KYC on Uniswap - Uniswap Interface
How much Ethereum GAS have you WASTED? fees.wtf?
Uniswap V3 coming soon price pump and airdrop? Releases · Uniswap/interface · GitHub

Timestamps


00:00 Scalability with a layer 2 on Ethereum?
01:37 The New Scalability stack for ethereum, optimism on Uniswap
02:22 Switching Eth to a layer 2 optimism
05:24 Free Crypto Airdrop opportunities
07:33 Receiving the optimism Ethereum
08:12 How to withdraw from optimism to Ethereum
09:27 GSX
10:03 Comparing the Optimism explorer vs the Ethereum
11:24 Making a swap on optimism
12:09 Adding a Liquidity position on Optimism
13:12 DBX
15:35 Comparing fees on Optimism vs Ethereum
16:10 Conclusion, would you swap to Optimism instead of Ethereum?
VoskCoinTalk the VoskCoin forum - VoskCoinTalk - Best cryptocurrency & blockchain forum
VoskCoin Facebook - Redirecting...
VoskCoin Reddit - https://www.reddit.com/r/voskcoin/
VoskCoin Discord Server Invite - VoskCoin
VoskCoin Twitter - https://twitter.com/VoskCoin
VoskCoin Instagram - Login • Instagram
VoskCoin is for entertainment purposes only and is never intended to be financial investment advice. VoskCoin owns or has owned cryptocurrency and associated hardware. VoskCoin may receive donations or sponsorships in association with certain content creation. VoskCoin may receive compensation when affiliate/referral links are used. VoskCoin is home of the Doge Dad, VoskCoin is not your Dad, and thus VoskCoin is never liable for any decisions you make.
Uniswap V3 Optimism Layer 2 Guide to trading on Ethereum with no gas fees