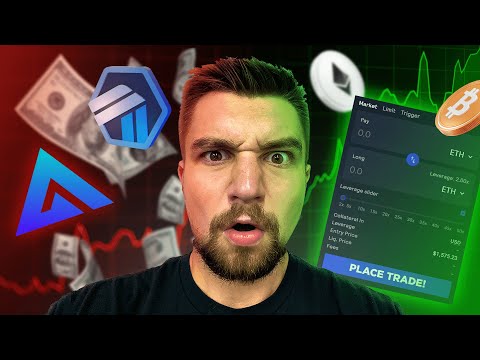 In this video, we're excited to unveil the future of crypto trading. We'll be giving you an exclusive look inside GMX, a new decentralized exchange that promises to revolutionize the way you trade cryptocurrencies. Don't miss out, watch now to unlock the full potential of your crypto trading! Subscribe! https://voskco.in/Sub
Swap and trade with discounted fees on GMX - GMX
Want to earn passive income easily? Check this - Evergreen
Use code VOSKCOIN to save!
Most of the GMX ecosystem links from thedefinvestor here - https://twitter.com/thedefinvestor/status/1615764148708868096
Fun fact the video title and 99% of the intro above was generated with chatgpt, crazy times.
Arbitrum a layer-2 solution to ethereum scaling issues is doing well, VERY WELL and GMX is thriving on this low fee blockchain. Etheruem may solve their scaling issues eventually, but quality layer 2 blockchains like Arbitrum will be here to stay regardless but it's GMX a multi blockchain futures trading exchange that is DECENTRALIZED that really has my interest among many other top cryptocurrency traders. Let's review not only GMX but all the the dapps and ecosystem building up around GMX.
Learn how to use Arbitrum and GMX! Arbitrum Beginners Guide! The BEST Ethereum Layer 2?! - YouTube
Arbitrum Beginners Guide! The BEST Ethereum Layer 2?!
Check out some of the other Layer 2 options:
Optimism OP layer 2 - Optimism
BNB Smart Chain bep20 best DEX - https://voskco.in/biswap
Synthetix SNX website dapp - Synthetix
Uniswap decentralized exchange - Uniswap Interface
1inch DEX aggregator - 1inch - DeFi / DEX aggregator on Ethereum, Binance Smart Chain, Optimism, Polygon, Arbitrum

Timestamps


00:00 Arbitrum Full Beginner's guide!
01:04 How to bridge coins to Arbitrum
03:55 How to add Arbitrum to MetaMask
05:01 Using a DEX on Arbitrum
06:07 Exploring the Arbitrum ecosystem
09:02 Arbitrum dApps
11:46 Arbitrum Nitro upgrade feat. FTX!
12:30 Trading on GMX on Arbitrum
17:07 Why use the Arbitrum blockchain?
18:48 VoskCoin Arbitrum guide
Follow us on our official social media accounts! - VoskCoin | Twitter, Instagram, Facebook | Linktree
Subscribe to VoskCoin for more passive income tips! https://voskco.in/sub
Follow VoskCoin on TikTok for more shorts! https://voskco.in/tiktok
VoskCoin is for entertainment purposes only and is never intended to be financial investment advice. VoskCoin owns or has owned cryptocurrency and associated hardware. VoskCoin may receive donations or sponsorships in association with certain content creation. VoskCoin may receive compensation when affiliate/referral links are used. VoskCoin is home of the Doge Dad, VoskCoin is not your Dad, and thus VoskCoin is never liable for any decisions you make.
Unlock the Future of Crypto Trading Today