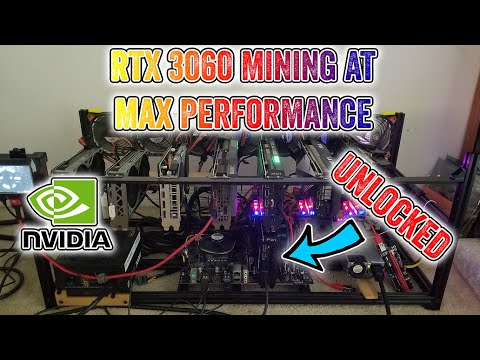 My apologies for posting this late, for the community but I wanted to share info for the Crypto Mining Community looking to get the full performance out of their RTX 3060. Nvidia messed up and released a Dev driver, that removed the lock on the GPUs. Below you will find additional information and steps but let me explain the full story.
First, I am a part of the Windows insider build program and heard that Dev Driver 470.05 was showing promising gaming performance uplift. This was stumbled on because one Insider build overwrote the release Nvidia driver or current public version. Once it was identified that it was 470.05 specifically, people started sharing on forums, both Nvidia and Guru3d. Then the miners found out about this and it was on! Kristy (OhGodAGirl) mentioned it on Twitter, but I was already looking into it… Then I heard BrandonCoin's Discord starting to go ham, so I jumped on a call with him. We went down two separate paths… see where I went wrong is I was trying to download the right Windows Insider build, and the driver because I was not seeing the performance uplift. I Ran DDU, reinstalled, adjust things, and when Brandoncoin Told me what Windows Build he was on I knew I went down the wrong Rabbit hole. I stayed up till 2:30 am, and woke back up at 6 am to continue testing. While Brandoncoin and his discord cracked the code. See bullet points for tips, and steps needed to get this to work. Again thank you to Crypto Mykel for keeping me appraised, while I was busy with work. Thanks to Kristy, and a Huge thanks to BrandonCoin! Another car guy, that likes Crypto! As community Miners, it is best we stick together, working towards a resolution. Communicating information, tips, how-to's, and guides. This is why I love this community, and let's not lose that camaraderie, please!
All have been working with this Dev Driver 470.05 with a mixed rig of Nvidia GPUs, and no problems.
Use and test at your own risk, we are not liable
Pascal GPUs do not like this driver.
Try testing in a separate system first, "NOT YOUR MAIN"
You DONT NEED Windows insider builds for it to work (Rabbit hole I went down)
You need to connect 3060 to PCIe x 16 slot
You need to connect a monitor to it or have a Dummy Adapter
You need the Driver, which Nvidia has taken down, but see below for the official driver.
https://mega.nz/folder/inhGiLoD#uo07Lthpny_VG0dOi-6_NQ
If you don't like Mega, then here is a Google link: