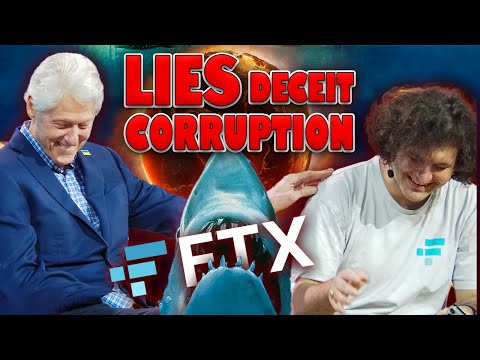 Unraveling the lies and deception of FTX and Sam Bankman-Fried, better known now as Scam Bankrun-Fraud. FTX cryptocurrency exchange in collaboration with Alameda Research has turned into the biggest ponzi scheme the world has ever seen, WTF happened?? Sub - http://voskco.in/Sub
Watch our most recent coverage of this groundbreaking event to get up to speed - FTX Collapsed and Here's Why - YouTube
Check out our initial breakdown of the news regarding FTX's collapse - FTX is turning out to be the biggest PONZI SCHEME SCAM EVER - YouTube
Want an update on BlockFi news today and withdrawals? BlockFi paused withdrawals, insolvent ponzi scheme SCAM or will users be able to recover their crypto?? #blockfi #ftx #voskcoin #binance #ftxus #sbf #sambankmanfried #florimarquez #crypto #cryptocurrency #scam #ponzi #bitcoin #btc #investing
As FTX files for bankruptcy along with all of its subsidiaries, the contagion of SBF and the FTX funds continues to spread. Are Solana, BlockFi and other investments safe from this collapse? What is the potential for everything in crypto to come crashing down? Are other cryptocurrency exchanges soon going to follow in FTX's steps? Let's take a deep dive into what information has been leaked and revealed over the last few days, how the FTX debacle has impacted multiple crypto projects and businesses, and what my thoughts on everything are right now.

Read the investigation threads here:


Pissed, pessimistic and paranoid, FTX clients face a new reality: 'It's all gone.'
Binance will launch a new 'industry recovery fund' -
Crypto.com CEO claims FTX exposure was limited to $10 million
The Block: Crypto.com CEO claims FTX exposure was limited to $10 million
Is Crypto. Com facing a similar future to FTX?
https://twitter.com/RMKOutFront/status/1591818509893632000
Kraken takes action by freezing accounts related to FTX hack - Kraken Freezes Account Access to Funds Related to FTX Hack - TokenInsight
The Block: Kraken freezes FTX and Alameda accounts, 'maintains full reserves'
Did SBF steal users' money to fund regulations? -
https://twitter.com/balajis/status/1591799827587035136
SBF was trying to fundraise in the UAE? -
https://twitter.com/AutismCapital/status/1592057502530940928
FTX paid $20M to county before naming rights deal ended -
Read the latest BlockFi Update (14 Nov) here -
SBF's self-fulfilling prophecy -
https://twitter.com/AutismCapital/status/1592225506011000832/photo/1

Timestamps


00:00 The new crypto villain: Sam Bankman Fried
01:03 So much lost with FTX and BlockFi
02:24 Binance and industry recovering fund?
03:40 Crypto. com in trouble?
04:32 Kraken freezes hacked and FTX and Alameda Funds
05:35 SBF bribing and looking to fundraise money
06:16 The FTX arena is no more
06:50 Huge investments and acquisitions in the crypto industry
07:30 Is Solana $SOL a scam?
08:20 What is going on with BlockFi?
09:09 Beyond devastated…
Follow us on our official social media accounts - VoskCoin | Twitter, Instagram, Facebook | Linktree
VoskCoin is for entertainment purposes only and is never intended to be financial investment advice. VoskCoin owns or has owned cryptocurrency and associated hardware. VoskCoin may receive donations or sponsorships in association with certain content creation. VoskCoin may receive compensation when affiliate/referral links are used. VoskCoin is home of the Doge Dad, VoskCoin is not your Dad, and thus VoskCoin is never liable for any decisions you make.
Unraveling the LIES & Deception of FTX and Scam Bankrun-Fraud