This is to handle all these common questions,
"I'm wondering if anyone else got this"
"Please ban this user for DM'ing me"
"Where can I report this?"
"Why did my reported scam DM get deleted?"
Why is this happening?
Unfortunately not a lot we can do to prevent it. We're a big crypto target for the scammers, the only real defence YOU can make is to turn off DM's for this server, which won't affect other Discord servers.
When you joined you got this message:

In #rules you might have seen this:


So to avoid spam, turn this on under Vosk's discord privacy settings: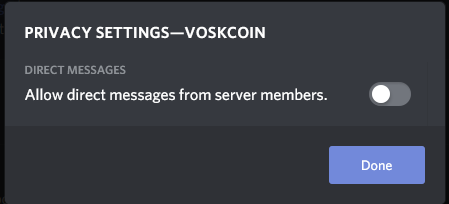 This does NOT stop you from receiving DM's - this means that only people you have accepted friend requests from (or sent friend requests to) are allowed to DM you. ie. this stops unsolicited messages on this server.
The setting only applies to THIS server, you can still get unsolicited messages from other Discord servers.
NOTE:
A bot DM is a one time drop, banning does nothing to prevent the spam already delivered and posting a screenshot for all to see only ensures that you spread the spam and shows that you did not follow the above advice.
It's generally a good idea to check the pinned messages on a channel before asking questions - most relevant and topical items are pinned per channel.
The button looks like this on a PC:


Or this will take you there on a mobile device:

Or on a mobile device wipe left on the top bar.
Or:
Make this arrow point down:


If you have something you would like to advertise/promote/etc and want to discuss with the team you can:
Talking/Shilling about Pi - it is a scam
Noobs Shilling
Shilling anywhere but the appropriate channel (which is marked as such)
See

#rules