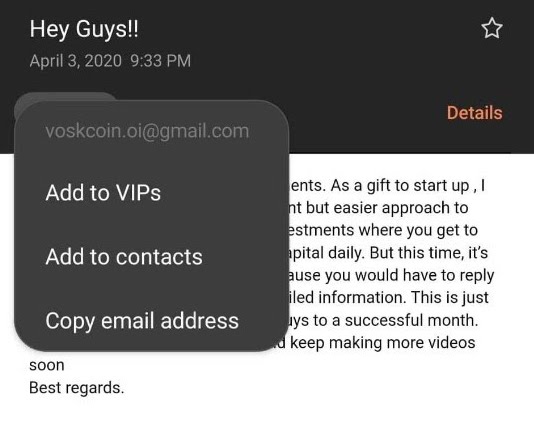 Unfortunately, VoskCoin deals with a MASSIVE amount of scammers and impersonators for a project of our size. On average we deal with at least one new fraudulent website, email, Facebook page, and/or Instagram account PER WEEK. It is very frustrating and very draining, however, these scammers are not something we can just ignore because it puts our awesome VoskCoin community at risk.
Just to be clear, we aren't emailing you from a @gmail.com account. We have official email channels from our official website (currently being re-designed) www.VoskCoin.io. We are not messaging you in your DMs on Instagram, we are not asking you to send us Bitcoin on a Facebook post, currently, all we are doing is asking you to watch, subscribe, and support us on YouTube! Which you can do so… right here!
Never hesitate to reach out directly to us to verify ANYTHING, or to alert us of new scammers/accounts.
We invite you to contact us through our new forum, so we can make an easy to access record of these events. You can view and sign-up for the new VoskCoin forum right here!
As always we appreciate you and thanks for sticking with us through the ups and downs in the crypto space!
Here's a couple more screenshots of the most recent fake VoskCoin scammer (currently using email address voskcoin.oi)