We are so excited!! We just closed on a 50 acre property in Virginia to build a solar-powered Bitcoin, Ethereum, and Crypto mining farm! Let's review VoskCoin and what is next for us!
Subscribe to Voskcoin here! http://voskco.in/Sub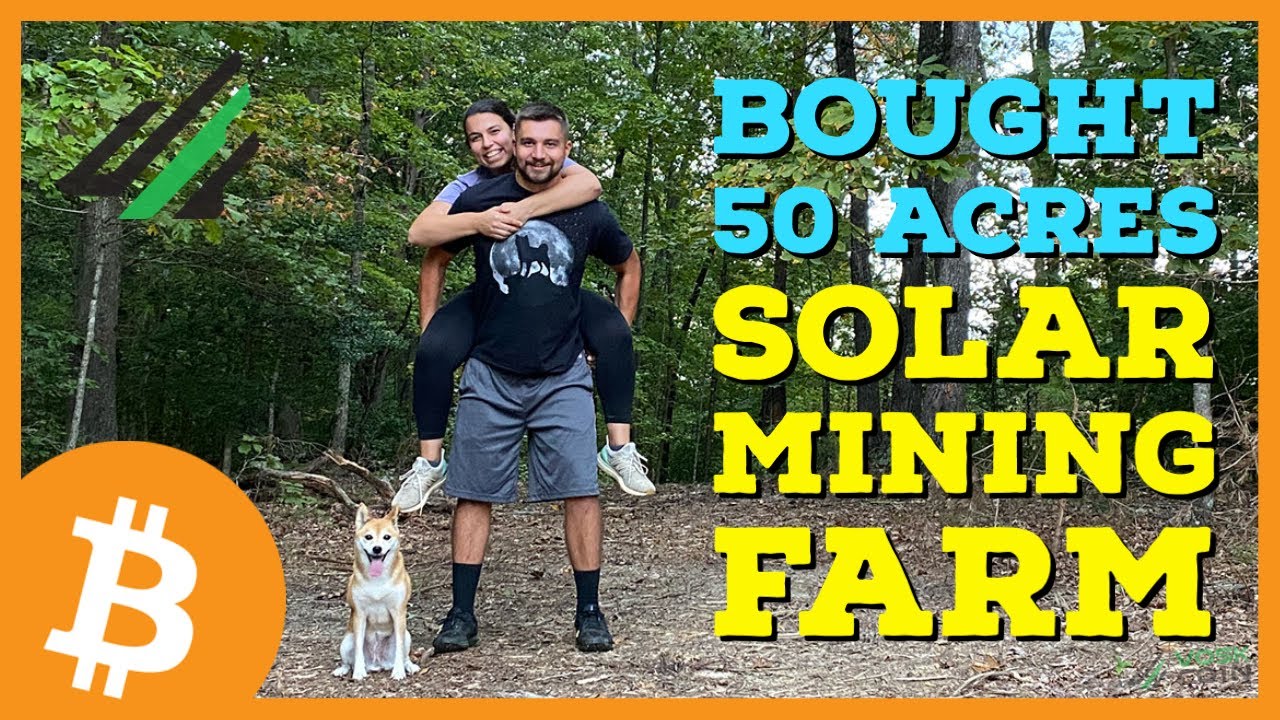 Watch the BEST DIY solar power Bitcoin crypto mining farm tour - https://www.youtube.com/watch?v=GrQ3-q2K03Q
I am so excited to be able to share this awesome news with you all and the simple fact we are so fortunate to have the opportunity to be able to build a new Bitcoin, Ethereum, and crypto mining farm powered with solar panels and thus a totally green solar powered mining farm! I have always dreamed of owning 25+ acres, as well as a property that has a creek/stream/river running through it because that's what all of wildlife revolves around. It would be incredible to build a hydropower turbine and then start power crypto mining rigs with hydropower, however, the much more attainable and realistic route will be to set up solar panels to power our mining rigs! We also have a brief health update on Tails our Shiba Inu and Doge, I am also fortunate to have recently purchased my dream car, a 2003 Sonic Blue Cobra! Let's review everything that is going on with VoskCoin and how we are planning to build not only our solar powered mining farm here, but also our custom dream home! Countless crypto projects coming soon to our fantasy factory, crypto edition!
Links!
Intro music Lost Sky - Dreams - http://voskco.in/ncs0
Outro music by Roy Knox - Shining - http://voskco.in/ncs1
Turbulent Be creating small scale hydro power turbines - http://voskco.in/turbe
Join the VoskCoin Discord Server with our new invite link - http://voskco.in/discord
The direct VoskCoin Discord server invite link is https://discord.gg/SngsrKGJkg
Timestamps!
00:00 We just closed on 50 acres to build a solar powered mining farm!
01:20 What is VoskCoin, how did VoskCoin start, and why?
03:11 Tails Vosk the VoskCoin Doge health update and backstory
04:54 VoskCoin is building a custom home on our new land!
05:18 I bought my dream car thanks to cryptocurrency, a 2003 Cobra
06:01 VoskCoin Bitcoin Crypto mining farm solar power inspiration
07:26 VoskCoin Crypto Mining Shed contributed to solar power design
10:09 VoskCoin solar powered crypto mining farm design and plan
10:54 We want to build a hydro powered crypto mining farm too!
12:48 VoskCoin solar power mining farm set up plan and timeline
VoskCoin Facebook - https://www.facebook.com/VoskCoin/
VoskCoin Reddit - https://www.reddit.com/r/voskcoin/
VoskCoin Twitter - https://twitter.com/VoskCoin
VoskCoin Instagram - https://www.instagram.com/voskcoin/
VoskCoin is for entertainment purposes only and is never intended to be financial investment advice. VoskCoin owns or has owned cryptocurrency and associated hardware. VoskCoin may receive donations or sponsorships in association with certain content creation. VoskCoin may receive compensation when affiliate/referral links are used. VoskCoin is home of the Doge Dad, VoskCoin is not your Dad, and thus VoskCoin is never liable for any decisions you make.
Drew Vosk, Alexa Miss Vosk, and Tails Vosk on the day they closed on their 50 acres for VoskCoin!