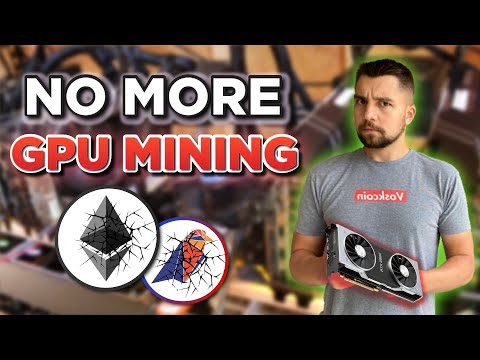 Gamers think that crypto miners stole all their GPUs and that GPU mining is why it's impossible to buy graphics cards right now… They're not really wrong, but here's Why I'm No Longer GPU Mining as much as I used to… This Helium miner is better than a GPU miner, Bobcat Miner 300 - https://voskco.in/HNTb
This is the best crypto miner to buy now - Is this the BEST Helium Miner EVER? - YouTube
I Spent $100,000 Building a CRYPTOCURRENCY & BITCOIN MINING SHED?! - I Spent $100,000 Building a CRYPTOCURRENCY & BITCOIN MINING SHED?! - YouTube
Compass sells Bitcoin miners - Compass — Bitcoin Mining and Hosting
Subscribe to VoskCoin - http://voskco.in/Sub
GPU mining is super profitable, but GPU miners used to be easy to build because graphics cards were in stock and not as many people built GPU mining farms. Now it is impossible to buy GPUs because more people work from home, more people are PC gamers, and above all cryptocurrencies like Ethereum are more expensive leading to more money to be made in passive income mining cryptocurrency! GPU mining on paper is more profitable than ever but no new projects launch as proof of work yeah no more PoW coins like many crypto coins that used to launch! Ethereum the biggest GPU mineable cryptocurrency is moving away from mining with Ethereum 2.0 and their new Proof of Stake PoS network. Some GPU miners think and hope that Ravencoin RVN will be the best coin to mine after ETH can no longer be mined but GPU mining revolves around Ethereum. GPU mining is what got me intro cryptocurrency and crypto mining but the future of GPU mining is looking more grim than ever before, so here's Why I'm No Longer GPU Mining
This mining rig is better than a GPU mining rig - The BEST Helium ($HNT) Hotspot Miner to Buy Right NOW?! | by Miss Vosk | VoskCoin | Oct, 2021 | Medium
$6000 Crypto Miner Earned $1700 in 60 days or 0.17 Bitcoin | Kirinminer 2 Month Update Review - $6000 Crypto Miner Earned $1700 in 60 days or 0.17 Bitcoin | Kirinminer 2 Month Update Review - YouTube
This miner is earning $2000 DOLLARS a month?! Kirinminer Waltonchain WTC Miner Review - This miner is earning $2000 DOLLARS a month?! Kirinminer Waltonchain WTC Miner Review - YouTube
Learn how I'm EARNING $560 A DAY at home MINING BITCOIN and DOGE?! - I'm EARNING $560 A DAY at home MINING BITCOIN and DOGE?! - YouTube

Timestamps


00:00 Why I GPU mine less
03:52 Is GPU mining still worth it?
05:03 GPU mining has changed drastically
06:28 GPU mining shortage due to mining?
08:27 GPU mining is dying
10:50 EIP 1559 killing Ethereum mining
12:10 What do people think about EIP-1559?
14:53 GPU Mineable alternatives to Ethereum
16:35 KubeCoin
18:16 Will Ravencoin save GPU mining
19:25 The best coins to GPU mine after Ethereum 2.0 PoS
21:02 GPU mining still worth it in 2022?
VoskCoinTalk the VoskCoin forum - VoskCoinTalk - Best cryptocurrency & blockchain forum
VoskCoin Facebook - Redirecting...
VoskCoin Reddit - https://www.reddit.com/r/voskcoin/
VoskCoin Discord Server Invite - VoskCoin
VoskCoin Twitter - https://twitter.com/VoskCoin
VoskCoin Instagram - Login • Instagram
VoskCoin is for entertainment purposes only and is never intended to be financial investment advice. VoskCoin owns or has owned cryptocurrency and associated hardware. VoskCoin may receive donations or sponsorships in association with certain content creation. VoskCoin may receive compensation when affiliate/referral links are used. VoskCoin is home of the Doge Dad, VoskCoin is not your Dad, and thus VoskCoin is never liable for any decisions you make.
Why I'm No Longer GPU Mining