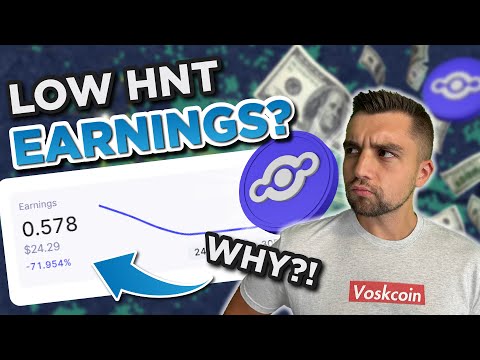 Helium HNT the cryptocurrency that is mined by radio waves has been the best coin to mine all year, but my Helium mining profitability has been bad lately, why? Is it still worth it to buy a Helium miner? Buy the BEST Helium miner Bobcat miner 300 - https://voskco.in/HNTb
Here's how to buy the best HNT miner Bobcat Helium Miner 300 - How to Buy Bobcat Miner 300 Helium Hotspot Miner - YouTube
Reviewing the best Helium HNT miner to buy - Is this the BEST Helium Miner EVER? - YouTube
Learn more about the best Helium miner on VoskCoin blog - The BEST Helium ($HNT) Hotspot Miner to Buy Right NOW?! | by Miss Vosk | VoskCoin | Oct, 2021 | Medium
Helium hotspot miners are the best mining rigs you can buy, but is that still true after numerous recent changes to the Helium network and blockchain outages thanks to Helium Inc. and parabolic growth of the Helium hotspot network?! My Helium mining profits have decreased recently – Why My Helium Mining Profitability WENT DOWN?! is the question I am asking, was it due to pocv11 yet they rolled it back to pocv10 and HNT miner earnings have still been lower than my historical averages. Sure more miners come online every day but HNT is a more valuable currency on average month over month, even simply when evaluated by its USD price point per coin. Let's review what happened to Helium mining profitability and why I think Helium mining is still worth it in 2022!
VoskCoinTalk Helium Mining Wiki - Helium HNT Hotspot Mining Wiki & FAQ
Learn more about TrustNFT - TrustNFT - Decentralized NFT collaterized loans
Learn more about Envida - EnviDa Token | The Future of Environmental Tracking With Blockchain
Links!
This is the ONLY Helium Hotspot miner VoskCoin recommends - https://voskco.in/b300
Save 3% on Linxdot Helium miner code voskcoin - Linxdot Store
Subscribe to VoskCoin - http://voskco.in/Sub
Compass sells ASIC miners to earn passive income - Compass — Bitcoin Mining and Hosting
Watch the full Bobcatminer 300 HNT miner review - Bobcat Miner 300 - The BEST Helium Miner?? $5-100+ PER DAY?! - YouTube
Earning 50+ a day mining Helium HNT! I'm EARNING $50+ A DAY in passive income with a SILENT COMPUTER?? - YouTube
Helium POCV11 Explained - PoCv11 Explained & Call to Action | by Abhay Kumar | Sep, 2021 | The Helium Blog
Gristle King POCV11 review - What Does PoCv11 Mean For Me? - Gristle King - A Guide to Helium
Check the current status of the Helium network - https://status.helium.com/

Timestamps


00:00 Are Helium hotspot earnings broken?
01:25 Which Helium hotspot should I buy?
02:52 What is the PoC v11 on the HNT blockchain?
04:58 What will PoC v11 do to Helium earnings?
06:26 EnVida is the future of environmental data
07:13 Should I buy a new antenna for my hotspot?
11:29 TrustNFT brings NFTs to DeFi loans
12:14 How has Helium HNT earnings changed?
14:37 VoskCoin Helium PoC v11 update
VoskCoinTalk the VoskCoin forum - VoskCoinTalk - Best cryptocurrency & blockchain forum
VoskCoin Facebook - Redirecting...
VoskCoin Reddit - https://www.reddit.com/r/voskcoin/
VoskCoin Discord Server Invite - VoskCoin
VoskCoin Twitter - https://twitter.com/VoskCoin
VoskCoin Instagram - Login • Instagram
VoskCoin is for entertainment purposes only and is never intended to be financial investment advice. VoskCoin owns or has owned cryptocurrency and associated hardware. VoskCoin may receive donations or sponsorships in association with certain content creation. VoskCoin may receive compensation when affiliate/referral links are used. VoskCoin is home of the Doge Dad, VoskCoin is not your Dad, and thus VoskCoin is never liable for any decisions you make.
Why My Helium Mining Profitability WENT DOWN?!