im just getting started and i dont want to get scammed
Sorry for that, umm I don't know, but looks like henor says its a no no.
If you go to asicminervalue.com to see the profits of each miner, then click on the miner you are looking for, then scroll towards the bottom and they give a list of trusted sites and who has the miner. I have purchased a KD box from asicmarketplace.com and another from goldshell directly. They both arrived within 12 or 13 days from ordering. It took a few days to get my tracking number (made me nervous), but all worked out.
I bought a 72TH/s Avalon 1166 from coinminingcentral.com and they were good. I received it in about two weeks. Brand new in the box. Had a hiccup with the purchase, the system said I didn't send enough BTC but they rectified it within 2 days when I emailed them (it turns out it was all okay).
Compass is selling miners direct to end users for the moment. The selection is kind of narrow but I would trust them more than a lot of other sellers. I am not affiliated with them but I have purchased miners/hosting with them.
Have any of you tried Amazon?
I'm 1:1 with Print Crypto so far (admittedly small sample set). Ordered a GS LT5 Pro in early August. Received it 2 1/2 weeks later direct from HK and it's been in my garage happily hashing away since. I have a GS KD5 on order with them as well. Crossing fingers that it'll be here by mid-Oct though I've a feeling that a lot of orders will run late because of the Chinese holidays. I'll report back when I receive my KD5.
One thing that gave me some comfort, though it's not the end all and be all, was a company search. Print Crypto is a Texas LLC. Go to Texas Comptroller of Public Accounts web site, Taxable Entity Search, and enter Print Crypto in the search box. Results indicate that it's a legit company, active with the state, has a taxpayer i.d. number, provides owner name and addresses etc.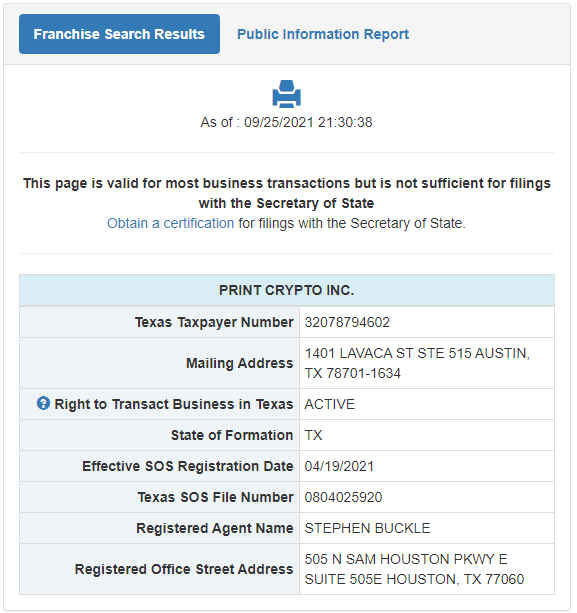 Fwiw, the owner is also on LinkedIn, https://www.linkedin.com/in/stephen-buckle/. Scammers would normally like to keep a less public profile.
I have no experience with asicmarketplace.com
Just really dislike scammers!
Please, please keep asking around before you jump.
Oh also, don't make your first order a huge one, even if they're on the up and up. Just stick your tow in there and see how it is.
As an update, I received my 2nd ASIC from PrintCrypto 2 days ago, a KD5. Actually arrived via DHL two days earlier than originally expected.
The good news is that it's happily hashing away in my garage and slightly outperforming my other KD5. The somewhat bad news is that I don't believe that it's a new miner, but rather a "newish" miner.
Both screens on the intake fan side were pushed in. Top fan wouldn't turn at all. Bottom fan was slightly brushing the screen and making a sound that I thought initially was a defective bearing. I replaced both screen with some extras I had laying around. Problem solved.
When I had the screens off and fans loose, I noticed both were covered by a charcoal gray gritty dirt. Also, the heat sinks had some of this dirt in them as well. Not a lot, but more than you'd expect from a couple of hours of manufacturer testing. I blew some compressed air through the heat sinks, cleaned the fans, fired the ASIC up. All good.
I contacted PC's owner, Stephen Buckle. Stephen apologized, said it had happened with one other customer's KD5, and offered a full refund (likely because he knew that he could sell a used KD5 in a heartbeat). But with KDA at/near an all time high and the ASIC producing just over $100/day as I type this, I said "nah, I'm good". But he took the time to write a longer than expected, apologetic email.
Admittedly, I was hoping for an offer of a price adjustment, i.e. rebate ~$500 or so because the unit was used, but no such offer came about.
that's messed up. some of those miners get overclocked and you might lose lifespan. Not to mention the warranty is probably voided. price adjustment would have been fair… I only deal in new equipment.