Ripple XRP continues to DUMP after the SEC announced they were suing Ripple labs due to the sale of XRP and it now being deemed a security! Coinbase, CryptoCom, Bittrex, and more exchanges are already delisting Ripple XRP trading?! Subscribe to VoskCoin - http://voskco.in/Sub
Get $25 for FREE with CryptoCom - https://medium.com/voskcoin/crypto-com-review-50-for-free-58b7287170f4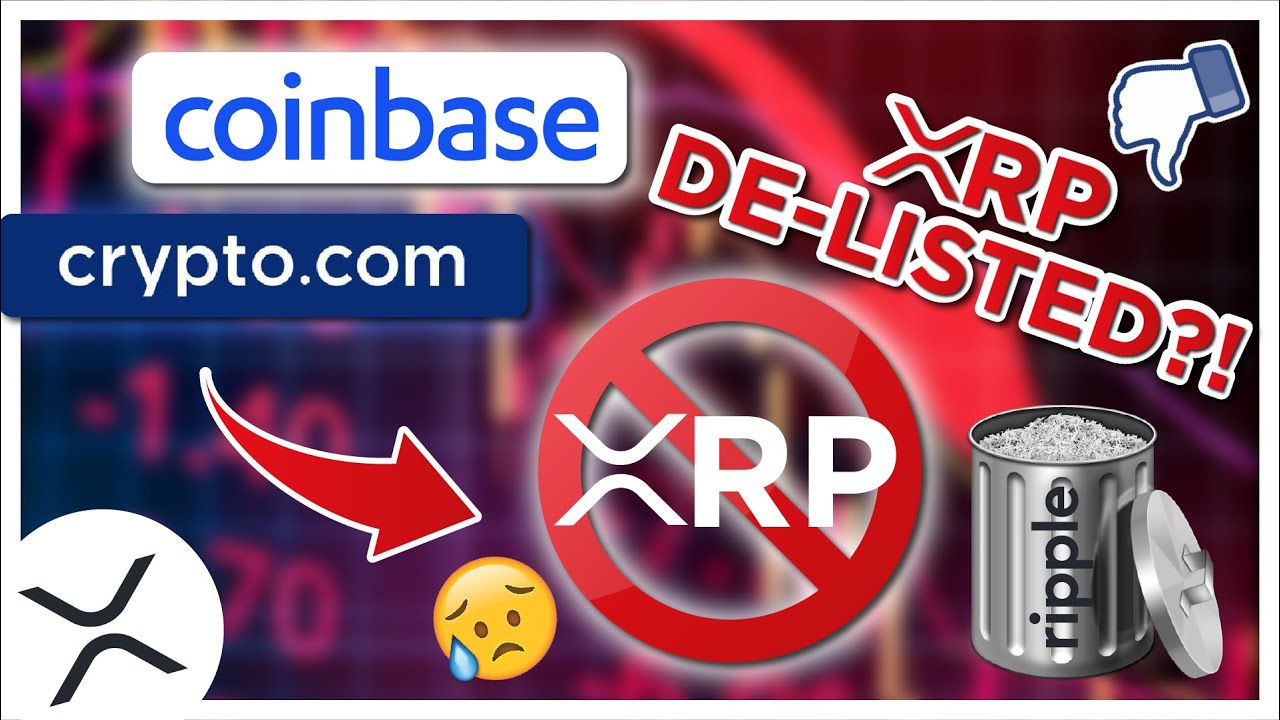 This could be leading to the best Ripple XRP buying opportunity in half a decade, however, it will be very hard to invest in XRP once it has been delisted from all major cryptocurrency exchanges. XRP is the first cryptocurrency, digital currency, or simply token to be delisted from the Coinbase cryptocurrency exchange. CryptoCom wasted no time and announced they are delisting XRP trading. Bittrex quickly followed suit and announced they will be halting any Ripple XRP trading on their exchange. So should you buy XRP? Is XRP going to be one of the best investments in 2021?! It's looking extremely unlikely but let's review XRP and the freshest XRP news!
Links!
CryptoCom and Bittrex to delist XRP Ripple trading - http://voskco.in/xrpp2
Coinbase delists Ripple XRP trading - http://voskco.in/xrpp1
Bullish Ripple XRP tweet! http://voskco.in/xrpp0
Ripple XRP price index and chart - http://voskco.in/xrpp
Doug Polk Crypto XRP breaking news inspiration - https://www.youtube.com/watch?v=_O9_0g-cT0w
Ripple XRP Brad Garlinghouse SEC interview - https://www.youtube.com/watch?v=KKmjGV6T4IY

Timestamps


00:00 BREAKING NEWS Ripples XRP price continues to DUMP
01:57 Coinbase delists XRP no more Ripple trading
02:30 Ripple XRP bullish price prediction after crypto.com delists XRP
04:38 What is Ripple and what is XRP
05:47 Ripple XRP is a digital currency and not a cryptocurrency
08:35 Ripple XRP price prediction 2021 and buying the dip!
08:53 Ripple XRP is NOT going away, SEC can't stop XRP
10:49 Spam and scam VoskCoin YouTube comments
11:53 Scammers and impersonators on VoskCoin Facebook
12:28 Voskcoins.co is a SCAM cloud mining operation impersonating VoskCoin
13:00 Should you buy Ripple XRP in 2021?
VoskCoinTalk the VoskCoin forum - http://voskco.in/forum
VoskCoin Facebook - https://www.facebook.com/VoskCoin/
VoskCoin Reddit - https://www.reddit.com/r/voskcoin/
VoskCoin Discord Server Invite - http://voskco.in/discord
VoskCoin Twitter - https://twitter.com/VoskCoin
VoskCoin Instagram - https://www.instagram.com/voskcoin/
VoskCoin is for entertainment purposes only and is never intended to be financial investment advice. VoskCoin owns or has owned cryptocurrency and associated hardware. VoskCoin may receive donations or sponsorships in association with certain content creation. VoskCoin may receive compensation when affiliate/referral links are used. VoskCoin is home of the Doge Dad, VoskCoin is not your Dad, and thus VoskCoin is never liable for any decisions you make.
XRP DUMPS more after Coinbase, CryptoCom, and Bittrex dump Ripple trading.