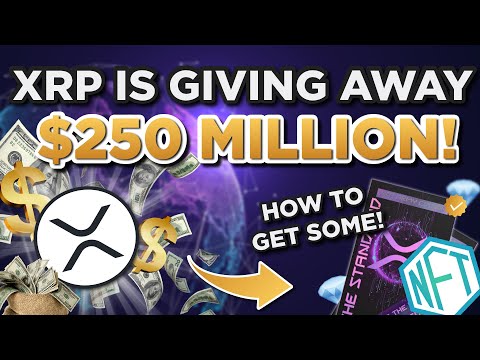 Ripple is giving away 250 MILLION DOLLARS in grants to creators, developers, and contributors to help pump their XRP NFTs and XRP coin to the moon, forget the SEC XRP plans to rocket in this crypto bullrun… Subscribe to VoskCoin - http://voskco.in/Sub
Get $25 for FREE use code VOSKCOIN - https://voskco.in/cryptocom
Compass sells Bitcoin miners - Compass — Bitcoin Mining and Hosting
Helium miners are the best mining rigs to buy - What is the BEST Helium Hotspot Miner to Buy? | by VoskCoin | VoskCoin | Medium
Bobcat Miner 300 HNT miner is the BEST Helium miner to buy - https://voskco.in/HNTb
XRP is set up for a massive pump that could finally make ripple xrp investors rich and millionaires if they missed buying it in the bear market or before the previous pump. BUT WHY sure there's the FLR Flare token airdrop and the associated SongBird token airdrop but it's the 250m dollars Ripple is pumping into their ecosystem to kickstart XRP NFTs and much more that is setting XRP up for huge success. Let's review XRP how to get some free funding or XRP from Ripple out of their 250 million giveaway grant fund!
Learn why the SEC can't stop the XRP pump - XRP is going to PUMP HUGE - YouTube

Timestamps


00:00 XRP launches a $250 million fund for XRP NFT's!
01:28 How to apply for the $250 million XRP fund
03:34 What is the XRP NFT fund? How does it work?
05:35 How will this $250 million affect XRP price?
06:42 One Donuts NFTs are launching soon! Bake one today!
07:23 XRP's future & airdrops - Flare and Songbird
09:45 What is the Songbird network on XRP?
12:00 Paybswap is a new AMM Yield Aggregator for max gains!
13:57 XRP airdrops and $250 million fund
VoskCoinTalk the VoskCoin forum - VoskCoinTalk - Best cryptocurrency & blockchain forum
VoskCoin Facebook - https://www.facebook.com/VoskCoin/
VoskCoin Reddit - https://www.reddit.com/r/voskcoin/
VoskCoin Discord Server Invite - VoskCoin
VoskCoin Twitter - https://twitter.com/VoskCoin
VoskCoin Instagram - https://www.instagram.com/voskcoin/
VoskCoin is for entertainment purposes only and is never intended to be financial investment advice. VoskCoin owns or has owned cryptocurrency and associated hardware. VoskCoin may receive donations or sponsorships in association with certain content creation. VoskCoin may receive compensation when affiliate/referral links are used. VoskCoin is home of the Doge Dad, VoskCoin is not your Dad, and thus VoskCoin is never liable for any decisions you make.
XRP NFTs & Ripple 250 MILLION Giveaway Grants has XRP set to PUMP!