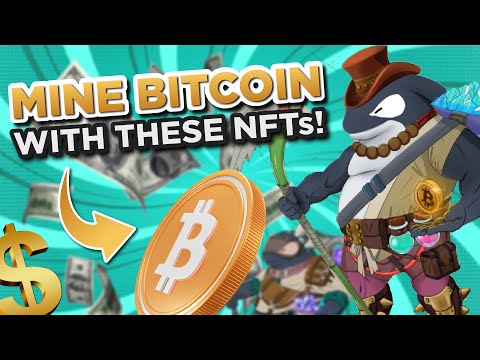 These new NFTs want to distribute BTC mining hashrate to their holders - allowing you to earn passive income mining Bitcoin without ever having to own a miner?! Subscribe to VoskCoin for more! http://voskco.in/Sub
Mine BTC with the Hydro Whale NFTs - HYDRO WHALES - BTC Mining Club
Buy a Helium Miner for $25 off that ships TODAY here - https://voskco.in/mntd25
Get $10 for FREE and 5% off your trading fees - https://voskco.in/ftx
I love crypto mining, and I love NFTs! Combining both of them is like a dream come true for me - being able to earn passive income mining without actually having to own a loud, expensive ASIC miner? These Hydro Whale NFTs are essentially tokenized hashrate for Bitcoin miners. Will the project succeed in mining Bitcoin for their NFT holders? What is the future of the project? I'll show you how to mint a Hydro Whale if you choose to do so, and see how their Bitcoin mining rewards system works!
Check out our full MetaMask Guide - MetaMask Guide | BEST Ethereum Wallet for DApps and Smart Contracts - YouTube
Should you mine crypto in 2022?! - Should You Mine Crypto in 2022? - YouTube

Timestamps


00:00 Earn Bitcoin returns on your NFTs?
01:07 Bitcoin mining right now
02:38 What is the Hydro Whales Mining Club project?
07:02 Team behind Hydro Whales Mining Club project
07:37 Royalties on Hydro Whales Mining Club NFTs
08:23 Hydro Whales Mining Club legal audit
10:58 How to mint a Hydro Whales Mining Club NFT?
16:25 Hydro Whale Mining Club NFT rewards
VoskCoinTalk the VoskCoin forum - VoskCoinTalk - Best cryptocurrency & blockchain forum
VoskCoin Facebook - Redirecting...
VoskCoin Reddit - https://www.reddit.com/r/voskcoin/
VoskCoin Discord Server Invite - VoskCoin
VoskCoin Twitter - https://twitter.com/VoskCoin
VoskCoin Instagram - Login • Instagram
VoskCoin is for entertainment purposes only and is never intended to be financial investment advice. VoskCoin owns or has owned cryptocurrency and associated hardware. VoskCoin may receive donations or sponsorships in association with certain content creation. VoskCoin may receive compensation when affiliate/referral links are used. VoskCoin is home of the Doge Dad, VoskCoin is not your Dad, and thus VoskCoin is never liable for any decisions you make.
You Can MINE Bitcoin With These NFTs?! Hydro Whales Mining Club Review