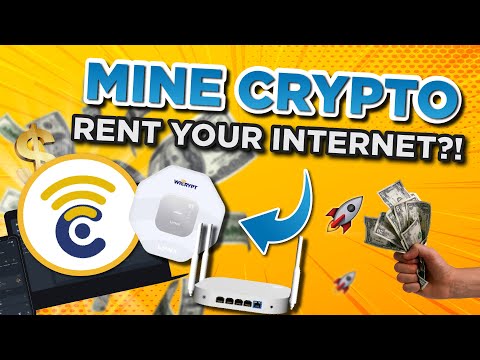 You Can Mine Crypto by Renting Your Internet?! There's a new cryptocurrency mining project that lets you rent your internet by setting up hotspots and being rewarded in their own crypto token when others use your internet hotspot! Subscribe to the best crypto YouTube channel VoskCoin! http://voskco.in/Sub
Rent your internet and earn WNT coins with Wicrypt - Wicrypt - The Smart Wi-Fi Network Powered by You
Vote for VoskCoin in the Helium Noble Awards please! Helium Noble Awards 2021
Remind you of Helium? Buy the best HNT miner here - https://voskco.in/b300
Reviewing the best Helium HNT miner to buy - Is this the BEST Helium Miner EVER? - YouTube
Wicrypt is an interesting new competitor to a new wave of data miners in cryptocurrency competing with Helium HNT and their IoT blockchain network. There are many Helium wannabe clones like MXC with their m2 pro miner, and then there are also interesting upstarts like Deeper Network who were even approved to make their own Helium hotspot miners even though they are a HNT competitor! Wicrypt is not a LORA IoT project, Wicrypt and their Wicrypt hotspots are going to literally be internet hotspots that reward you in their WNT token!

Timestamps


00:00 Is this coin a new Helium competitor?
01:30 Wicrypt is building a network of hotspots
03:50 Wicrypt funding and their WNT token
06:45 How to buy the WNT token on Polygon
08:10 Wicrypt public team
11:53 Wicrypt audit has been completed
12:50 Wicrypt hotspot miners
14:13 Will Wicrypt be the next Helium?
VoskCoinTalk the VoskCoin forum - VoskCoinTalk - Best cryptocurrency & blockchain forum
VoskCoin Facebook - Redirecting...
VoskCoin Reddit - https://www.reddit.com/r/voskcoin/
VoskCoin Discord Server Invite - VoskCoin
VoskCoin Twitter - https://twitter.com/VoskCoin
VoskCoin Instagram - Login • Instagram
VoskCoin is for entertainment purposes only and is never intended to be financial investment advice. VoskCoin owns or has owned cryptocurrency and associated hardware. VoskCoin may receive donations or sponsorships in association with certain content creation. VoskCoin may receive compensation when affiliate/referral links are used. VoskCoin is home of the Doge Dad, VoskCoin is not your Dad, and thus VoskCoin is never liable for any decisions you make.
You Can Mine Crypto by Renting Your Internet?!