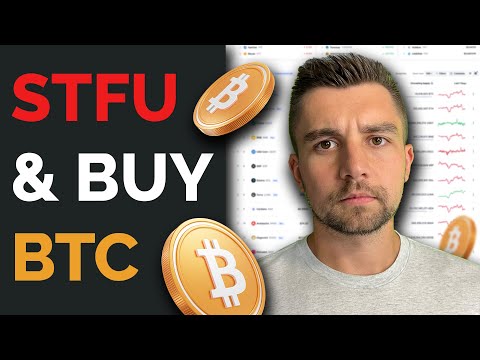 People need to shut up and focus on doing what they're passionate about. Cryptocurrency is a life changing opportunity. Don't let anyone tell you otherwise. If they do, just tell them to STFU and buy Bitcoin. Now STFU and watch this video! Also subscribe! http://voskco.in/Sub
Get up to $250 for FREE with BlockFi - https://voskco.in/250free
Looking for the BEST miner right now? https://voskco.in/b300
Best deals on the most popular 2022 miner - bobcat miner 300 in Miners: Search Result | eBay
I started my crypto mining journey almost 5 years ago. Biggest lesson I learned is don't ask investment advice from people that do not invest, don't ask Bitcoin questions to nocoiners that no nothing about BTC. If you want to start a business whether its related to crypto or not, do not seek business advice from people who are not entrepreneurs! There's a lot of people that don't want to see you win, that is the sad truth, and building a crypto mining farm, buying bitcoin, and investing in cryptocurrencies has allowed me to change my life, against the advice of basically everyone I knew… Here's a culmination of my experiences and everything I have learned being a full-time Bitcoin investor, miner, and Bitcoin YouTuber.
This video is for entertainment purposes only, this is not investment advice.
Get on the list for the next MNTD drop - https://voskco.in/hntm
Our Full Guide on setting Up an ASIC Miner - How To Set Up an ASIC Miner - YouTube
BTC Crypto & GPU Mining Electricity Guide - Bitcoin Crypto and GPU Mining Electricity Guide! - YouTube

Timestamps


00:00 STFU and buy crypto!
01:23 How I've struggled to keep up with crypto
03:29 Dealing with people's opinions & "advice"
05:22 I was "too late" for crypto mining
07:48 Make sure you follow your passions
10:29 Life-changing decisions in crypto
12:19 Our VoskCoin mission & transparency
14:20 Dealing with people in the crypto space
17:30 What makes you happy?
19:10 Get up to $250 for FREE with BlockFi
19:43 Your personal journey & happiness
22:06 Creating value in this world
VoskCoinTalk the VoskCoin forum - VoskCoinTalk - Best cryptocurrency & blockchain forum
VoskCoin Facebook - Redirecting...
VoskCoin Reddit - https://www.reddit.com/r/voskcoin/
VoskCoin Discord Server Invite - VoskCoin
VoskCoin Twitter - https://twitter.com/VoskCoin
VoskCoin Instagram - Login • Instagram
VoskCoin is for entertainment purposes only and is never intended to be financial investment advice. VoskCoin owns or has owned cryptocurrency and associated hardware. VoskCoin may receive donations or sponsorships in association with certain content creation. VoskCoin may receive compensation when affiliate/referral links are used. VoskCoin is home of the Doge Dad, VoskCoin is not your Dad, and thus VoskCoin is never liable for any decisions you make.
You Need To STFU and Buy Bitcoin - VoskCoin advice motivational video