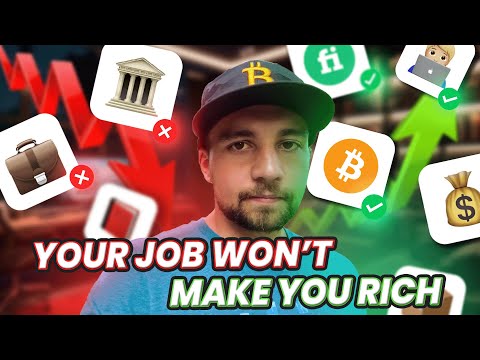 Your job will not make you rich, to be honest the 9-5 is a scam, so I am going to tell you what they don't want you to know, 5 ways to achieve financial freedom, or at least get closer to your financial and material goals. Also, I am earning passive income with this device - Evergreen
I am also earning passive income with miners from - https://voskco.in/cmb
Easy to say must be nice and it is a lot more difficult to change up your life and get where you want to go. Your day job is a clear trajectory and if you don't think you will have enough money to buy what you want with it, then you won't which is why investing, trading, and side hustles or even simply entrepreneurship are the only way to get true financial freedom and satisfy any material desires you may have which is what I want to review with you and share the wisdom I've learned along my painful but rewarding business journey.

Timestamps


00:00 This is how you really get rich
01:22 Method #1
03:12 Method #2
05:12 Method #3
06:34 Method #4
08:26 Improving your mindset for success
12:22 Method #5
14:12 Bonus method
16:24 Escape your 9 to 5!
Follow us on our official social media accounts! - VoskCoin | Twitter, Instagram, Facebook | Linktree
Subscribe to VoskCoin for more passive income tips! VoskCoin - YouTube
Follow VoskCoin on TikTok for more shorts! VoskCoin (@voskcoin) | TikTok
VoskCoin is for entertainment purposes only and is never intended to be financial investment advice. VoskCoin owns or has owned cryptocurrency and associated hardware. VoskCoin may receive donations or sponsorships in association with certain content creation. VoskCoin may receive compensation when affiliate/referral links are used. VoskCoin is home of the Doge Dad, VoskCoin is not your Dad, and thus VoskCoin is never liable for any decisions you make.
Your 9 to 5 Job WONT MAKE YOU RICH but this will…