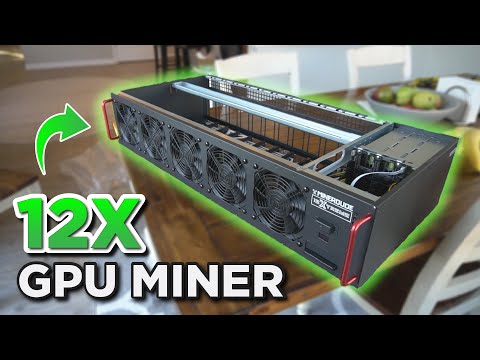 GPU mining is profitable, it's very profitable, and putting more graphics cards in one mining rig increases efficiency and allows you to spend less money on mining rig parts so you earn more money mining! Subscribe to VoskCoin - http://voskco.in/Sub
Buy a 9x or 12x GPU mining rig PCIE RISERLESS! https://voskco.in/Minerdude
Get $100 off with code VOSKCOIN
Win a Goldshell LB1 x VoskCoin edition for FREE! VoskCoin YouTube JUNE 2021 Giveaway Thread!
Thanks to Ethereum rising in price GPU mining has been more profitable than ever before this year, so more people than ever want to earn easy passive income mining cryptocurrency from home or building a big GPU mining farm! Minerdude partnered with Octominer to develop and bring to market PCIE riserless BIG motherboards for mining, this allows for safe and easy GPU mining without the need of PCIE risers a notoriously dangerous product that was likely to fail and or catch on fire. Lets review the BEHEMOTH or the BIGGEST 12x GPU mining rig case you have probably ever seen and also my real-world GPU mining performance of my 9x riserless graphics card miner mining rigs!
Get $250 for free w/ BlockFi! https://voskco.in/blockfi
Get $25 for free w/ CryptoCom! https://voskco.in/cryptocom
Octominer sells PCIE riserles GPU miner motherboards - https://octominer.com/

Timestamps


00:00 GPU mining in 2021 with NO PCIE RISERS!
02:30 Goldshell LB1 x VoskCoin Edition giveaway
03:49 Mining with PCIE riserless motherboards
05:00 Ethereum GPU mining profitability
06:00 Best graphics cards to buy in 2021
07:06 Method Finance
09:12 Riserless mining rigs are the best miners
09:56 Best GPU mining motherboards reviewed
10:50 Octominer mining rig 2021 review
12:18 GPU Mining in 2021
13.33 $100 off coupon code Minerdude
VoskCoinTalk the VoskCoin forum - http://voskco.in/forum
VoskCoin Facebook - VoskCoin
VoskCoin Reddit - https://www.reddit.com/r/voskcoin/
VoskCoin Discord Server Invite - http://voskco.in/discord
VoskCoin Twitter - https://twitter.com/VoskCoin
VoskCoin Instagram - https://www.instagram.com/voskcoin/
VoskCoin is for entertainment purposes only and is never intended to be financial investment advice. VoskCoin owns or has owned cryptocurrency and associated hardware. VoskCoin may receive donations or sponsorships in association with certain content creation. VoskCoin may receive compensation when affiliate/referral links are used. VoskCoin is home of the Doge Dad, VoskCoin is not your Dad, and thus VoskCoin is never liable for any decisions you make.
12x and 9x Minerdude Octominer GPU mining rig PCIE riserless review