A hacker stole over 5 million dollars worth of cryptocurrency by performing a 51% attack double spend on the Ethereum Classic ETC blockchain. This hacker rented thousands of mining rigs?! Sub to VoskCoin - http://voskco.in/Sub
Buy and sell ASIC miners in bulk with Scott Offord - http://voskco.in/Offord
Learn how we are using Crypto Earn to stake popular cryptocurrencies like Bitcoin, Ethereum, Tezos, Chainlink, MCO, and CRO along with the $50 code here - Get $50 in Cryptocurrency JUST FOR SIGNING-UP With Crypto.com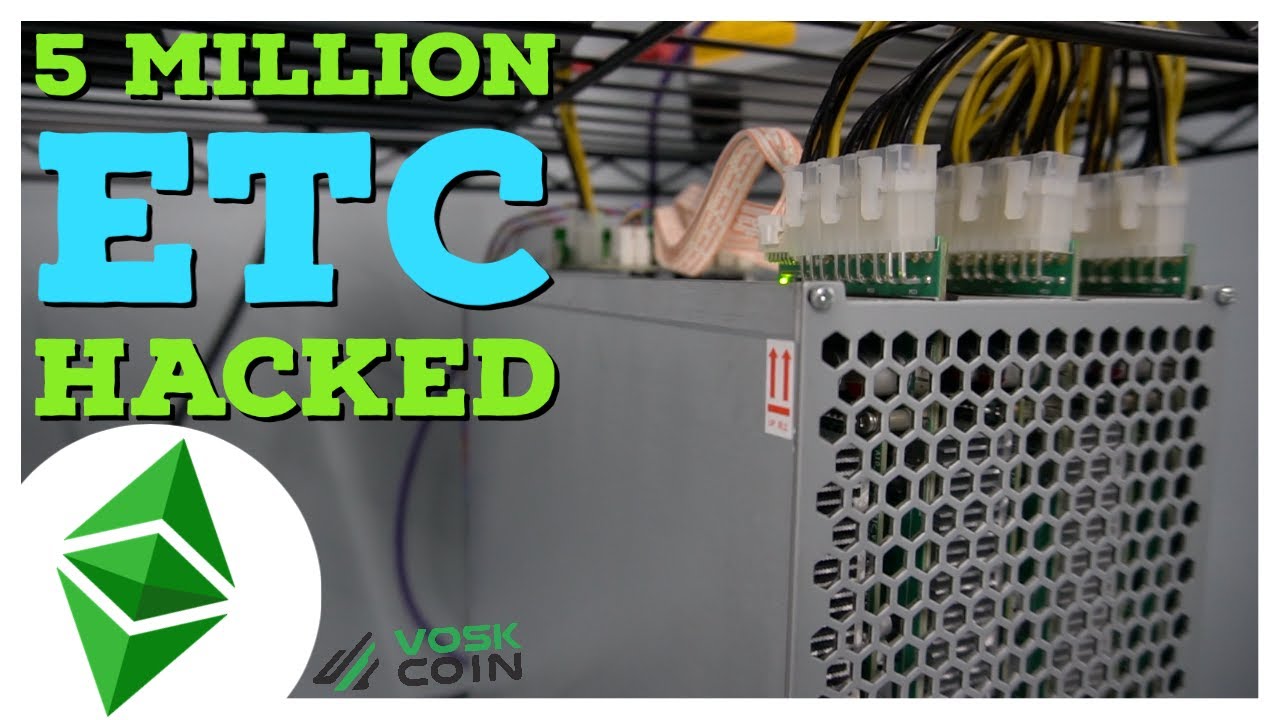 Proof of Work PoW is a blockchain consensus mechanism, its basically what moves a blockchain forward, processes transactions, and mints new crypto coins. Ethereum Classic uses the same mining algorithm as Ethereum, dagger-hashimoto Ethash, basically any Ethereum GPU mining rigs or ASIC mining rigs can be used to mine Ethereum Classic as well. Ethereum is a much bigger and more valuable blockchain network than Ethereum Classic, so this creates an excess of available hashrate that could be used to attack Ethereum Classic… and that is basically exactly what happened. Charles Hoskinson of IOHK said they could innovate on the Ethereum Classic blockchain, but ETC has no funding so they are not interested in working for free. Vitalik Buterin did not delay in saying that Ethereum Classic should upgrade to Proof of Stake PoS with Ethereum, which will mean that their blockchain will no longer be mineable. Let's review what happened with the Ethereum Classic 51% attack double-spend attack and how this hacker was able to basically steal over 5 million dollars worth of cryptocurrency!
Links!
Ethereum Classic ETC ranked 25 by coinmarketcap - http://voskco.in/ETCcmc
Ethereum vs Ethereum Classic explained - http://voskco.in/d6Uh
IOHK officially involved with Ethereum Classic - http://voskco.in/hevw
Charles Hoskinson IOHK tweet Ethereum Classic - http://voskco.in/XF30
Ethereum Classic 51% attacked twice for 5 million - http://voskco.in/3WVf
Ethereum Classic double spend attacked twice 2020 - http://voskco.in/LP8h
807,260 Ethereum Classic ETC hacked in 51% attack - http://voskco.in/NxW4
Vitalik Buterin says Ethereum Classic should upgrade to Proof of Stake PoS, which means to move away from mining Proof of Work PoW - http://voskco.in/wpJe
VoskCoin is for entertainment purposes only and is never intended to be financial investment advice. VoskCoin owns or has owned cryptocurrency and associated hardware. VoskCoin may receive donations or sponsorships in association with certain content creation. VoskCoin may receive compensation when affiliate/referral links are used. VoskCoin is home of the Doge Dad, VoskCoin is not your Dad, and thus VoskCoin is never liable for any decisions you make.