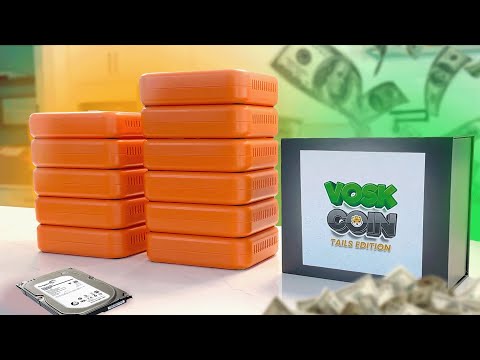 This is the best miner ever earning easy passive income with a plug-and-play mining rig, the VoskCoin Tails Edition Evergreen miner featuring 25% compression leading to higher mining profitability on Chia farming! Buy one of the 200 of these here! shop – Evergreen
Learn more about the VoskCoin Tails Edition HDD miner! Introducing the VoskCoin Tails Edition Evergreen Miner! | by Brynn | VoskCoin | Sep, 2023 | Medium
Order yours VoskCoin Tails Edition miner here - shop – Evergreen
Use code VOSKCOIN to save some COIN even on this Evergreen miner!
Here's the VoskCoinTalk thread on a limited edition Chia miner release! Are You Interested in a VoskCoin Edition Evergreen Miner Chia XCH Farmer?
FULL Evergreen Miner Video Tutorial - https://youtu.be/YMjn_lxRWx4
Join the VoskCoin Discord for more HDD mining content! VoskCoin
Timestamps!
00:00 VoskCoin Tails Edition Evergreen Miner
01:09 Getting excited about hard drive mining again!
02:03 Low-power crypto mining
03:40 Chia farming at home?
04:18 Compressed Chia plots!
05:24 Support the VoskCoin channel!
07:15 Why an Orange Evergreen Farmer
07:55 Mining Bitcoin with this miner?
08:41 This is a limited edition
09:25 What kind of models can you get?
11:40 Chia is a great coin to mine and farm!
13:06 Free Nfts and Tails token!
14:30 Evergreen farmers are improving!
15:44 VoskCoin Chia Miner Review
VoskCoin is for entertainment purposes only and is never intended to be financial investment advice. VoskCoin owns or has owned cryptocurrency and associated hardware. VoskCoin may receive donations or sponsorships in association with certain content creation. VoskCoin may receive compensation when affiliate/referral links are used. VoskCoin is home of the Doge Dad, VoskCoin is not your Dad, and thus VoskCoin is never liable for any decisions you make.
Best Miner EVER?! VoskCoin Tails Edition Evergreen Miner!