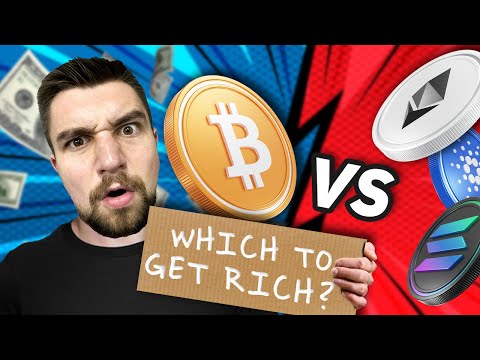 Making money with cryptocurrency seems almost too easy - buy low, sell high, right? But what do you choose to buy for the best returns possible? Will Bitcoin give you that 20x you're looking for? Or should you gamble with altcoins?! Subscribe for more crypto content - http://voskco.in/Sub
Win a FREE hardware wallet with Ballet - Ballet Crypto Wallet Giveaway - Win a FREE Wallet!
Don't care about giveaways? Buy Ballet Wallets here - The World Easiest Cryptocurrency Wallet – Ballet
Cryptocurrency prices may have pulled back a lot from all time highs, but that is precisely why it is a worthwhile time to begin getting back into a decent crypto position. Is Bitcoin the best bet for easy crypto gains, or are altcoins your best bet at the next 10x? Today we'll discuss the fundamentals of altcoin price movement, as well as how they compare to Bitcoin's long-term price action. When is the best time to buy coins to make the best gains? Let's find out!

Timestamps


00:00 Should you buy Bitcoins or Altcoins?
01:42 Is Bitcoin the way to move forward?
04:16 When is the right time to buy Bitcoins or Altcoins?
07:10 My conclusions from the previous crypto market cycles
11:42 Crypto vs Fiat currency
15:12 Bitcoin or Altcoins which one will dominate the future?
Follow us on our official social media accounts! - VoskCoin | Linktree
VoskCoin is for entertainment purposes only and is never intended to be financial investment advice. VoskCoin owns or has owned cryptocurrency and associated hardware. VoskCoin may receive donations or sponsorships in association with certain content creation. VoskCoin may receive compensation when affiliate/referral links are used. VoskCoin is home of the Doge Dad, VoskCoin is not your Dad, and thus VoskCoin is never liable for any decisions you make.
Bitcoin VS Altcoins! Which Will Make You RICH?!