September 12, 2021|Paid|Unfulfilled|$13,540.00 USD|
I'm waiting. Hopefully the delivery comes through.
Let me know if it works out! I actually called the Florida phone number on Friday and spoke to an real person. Made me feel a little more confident, but always still leery.
same here, ordered at about same time as you… every day passes i'm thinking how much i'm missing
did you have any update on this?
got an email today! getting ready to ship
This is exciting keep us updated.
same here, did some calculations and have to reroute the dryer 240 Volt outlet for the L7 that I bought.
Got the email and text messages that the KD5 will show up next Tuesday, October 5, DHL delivery.
I had it shipped to work for security reasons, and DHL shows up before 6 pm when they deliver.
Looks like 2021-10-05 will be a long day.
Jeeze they have it for sale for 19k now
it's with the courier, it cleared customs last week.
cleared customs ( 3 times in this weekend ) and … almost here

got 220 line up and runing, rushing to get all ready to not waste a minute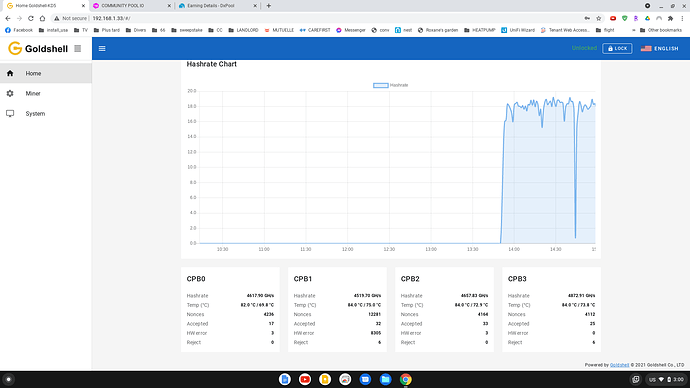 up and running ( had to turn off a couple times to fix other breakers in panel - got full very fast LOL)
so far maybe 25-30 KDA… but i have to let it run a few days to give better numbers

nice, I got the wrong plug, needed a C19 to C20.
still waiting.
are you using a pool?
That's awesome you got the miner!
@jaycee_USA I hope that the miner is running well .
I just have a question about your dashboard screenshot . Do you still have that high Hardware error on the CPB1 or was that only caused due to power turn offs?
sorry for delay!
i still got the high error on cpb1,
goldshell / bt-miners told me it was ok as long as my global error rate was low and hashrate in what expected
here is the screenshot of today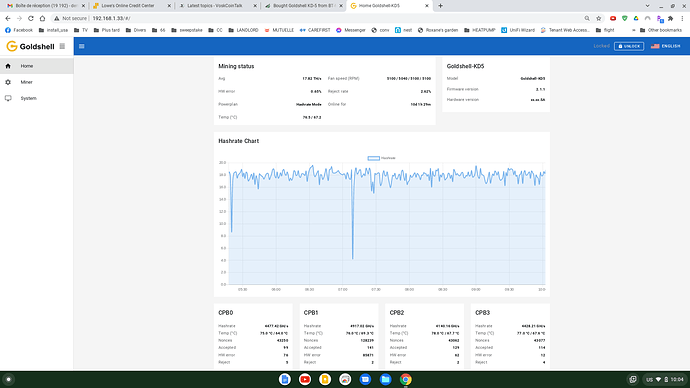 yes, after a few try i stay with cmpool … still use dx as backup ( and my minidoge is on dx also)
I have a KD5 coming this week. I am running a dedicated 220 outlet for just the machine with a double pull 15A breaker (since the machine is right around 10A). Can I plug in an inline surge protector and then plug straight into that? or do I have to have a PDU with the c19 to c20? Thanks for any help.
How long does it take to get to get approved on their site so you can see pricing? Do you have to do anything to get approved? There isn't a lot of info on their site.
Thanks