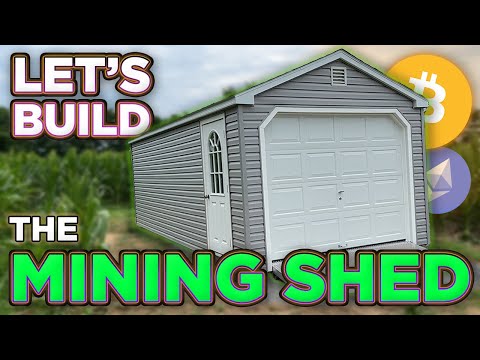 I am converting an amish shed into a Bitcoin mining farm, but why?! Mining BTC is a great way to earn passive income, and shipping containers have become very expensive so hopefully, this Bitcoin mining shed is the best ROI. Subscribe to VoskCoin! http://voskco.in/Sub
Join the solar mining farm design plan discussions on VoskCoinTalk, the best cryptocurrency forum! - Help Us Build the Mining Shed 2.0!
Get $250 for free with BlockFi - BlockFi Partner Promo | 7.8.22 T
I built my first cryptocurrency mining shed years ago, but now I am trying to make a 2.0 bitcoin mining shed and eventually power it with solar panels! With the new and improved Mining Shed 2.0 built and almost ready, it's time to start planning the 2 most important parts of a mining farm: miner layout and airflow. Today I'll go through my plans and thought process behind building out this huge 100 Acre Bitcoin mining farm during a bear market that will hopefully be the best cryptocurrency investment of my life… or uh… worst lol
Check out my Mining Shed 3.0 plans! - How I'm Building An EPIC Solar Powered Bitcoin Mining Shed! - YouTube
My rough plans for building a solar-powered BTC crypto mining farm - Building a SOLAR POWERED Bitcoin Crypto Mining Farm | My Rough Plans - YouTube

Timestamps


00:00 Help build the VoskCoin Mining Shed 2.0!
01:59 Optimizing air flow for the Mining Shed
03:00 The inside of the Mining Shed 2.0
04:13 Simple and effective passive income
05:25 Getting electricity for crypto mining
07:00 A trailer park for miners?
08:00 Temperature and mining efficiency effects
11:00 What do you think is a good way to mine?
Follow us on our official social media accounts - VoskCoin | Linktree
VoskCoin is for entertainment purposes only and is never intended to be financial investment advice. VoskCoin owns or has owned cryptocurrency and associated hardware. VoskCoin may receive donations or sponsorships in association with certain content creation. VoskCoin may receive compensation when affiliate/referral links are used. VoskCoin is home of the Doge Dad, VoskCoin is not your Dad, and thus VoskCoin is never liable for any decisions you make.
Building a Bitcoin Mining Shed!