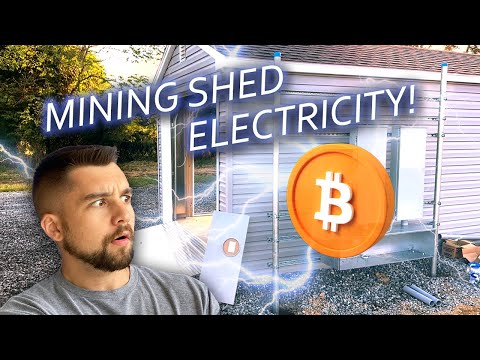 Finally making some progress on the electricity installation for the new VoskCoin Bitcoin Crypto Mining Farm Shed. I am working on expanding my mining farm with a dedicated mining shipping container that's fully customized for cryptocurrency mining and working towards solar powering the mining rigs eventually. Subscribe - https://voskco.in/Sub
Watch the full journey building out my mining farm here (playlist) - https://www.youtube.com/playlist?list=PL4dnwHTjcf-9qfOEekcjPwqJqgkO455f-
After mining with my dying gaming laptop, and then trying out a GPU mining rig I was absolutely hooked on mining. My dream has been to build a big Bitcoin and cryptocurrency mining farm that is eventually entirely powered by green energy, solar power to be precise. Building a mining farm has been a treacherous journey, but the VoskCoin mining shed 3.0 is getting closer with electricity going in finally! I am also planning for expansion already, with a dedicated customized shipping container built entirely for mining cryptocurrencies with air-cooled mining rigs.
Have some input on the Mining Shed and Solar Farm? Help Us Build the Mining Shed 2.0!
What coins will I mine on the farm? Find out here! - What Coins I'll Mine on My Solar Powered Mining Farm! - YouTube
My plans for electricity within the crypto mining shed - Designing Electricity for a Bitcoin Crypto Mining Farm - YouTube

Timestamps


00:00 Another day on the crypto mining farm
02:18 A custom mining container!
03:40 The mining shed now with a electric station
04:50 Drawing energy from the grid and solar panels
05:40 Immersion and hydro ASIC cooling?
07:10 From small to medium scale mining farm
08:15 Market conditions are not looking great
09:37 Almost ready for mining!
11:07 Trying to survive and pushing forward
11:56 What is the future for VoskCoin HQ?
Follow us on our official social media accounts - VoskCoin | Twitter, Instagram, YouTube, Facebook | Linktree
VoskCoin is for entertainment purposes only and is never intended to be financial investment advice. VoskCoin owns or has owned cryptocurrency and associated hardware. VoskCoin may receive donations or sponsorships in association with certain content creation. VoskCoin may receive compensation when affiliate/referral links are used. VoskCoin is home of the Doge Dad, VoskCoin is not your Dad, and thus VoskCoin is never liable for any decisions you make.
Crypto Mining Farm Electricity - When Will I Start Mining Bitcoins?!