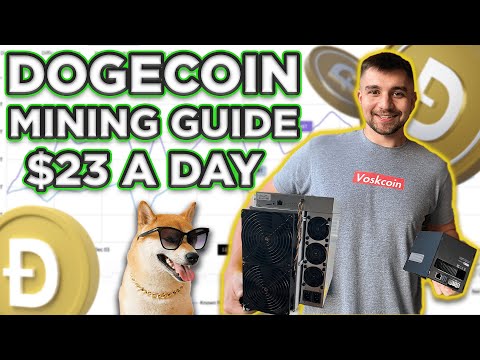 Dogecoin Mining Guide to Earn $23 per day, spoiler, mining dogecoin is easy and DOGE is 2nd most profitable coin to mine, right after Bitcoin BTC! Here's how to earn $23 a day in passive income mining dogecoins. Sub! https://voskco.in/Sub

Start your mining journey here:


The best mining rig to buy this year is this one - https://voskco.in/egm
save money with code VOSKCOIN
Mining Doge and LTC with DXPool today - https://voskco.in/dxpool
Buy the best Dogecoin miner from here - Coin Mining Central - UK Cryptocurrency Mining Hardware Supplier
Keep your coins safe in cold storage - https://voskco.in/trezor
Want some free Dogecoins?? here - Dogecoin January 2023 Giveaway
Dogecoin started as a joke, but ironically DOGE went on to make millionaires except for the actual creator jackson palmer because he was infuriated at the incredible community that developed behind Dogecoin leading to parabolic price increases lol but hey anyway… Here's the best Dogecoin mining guide, to help you get started mining Dogecoins which with the Bitmain Antminer L7 you can be earning $23 a day in passive income mining DOGE and Litecoin LTC! There are much cheaper Dogecoin miners too, but cheaper miners are less profitable mining rigs.

Timestamps


00:00 Mining $23 a day with Dogecoin
01:49 Dogecoin mining hardware
05:17 Dogecoin mining profitability
06:47 Where to buy Dogecoin miners from?
11:41 Alternative Dogecoin miners
12:58 Should you mine Dogecoin?
Follow us on our official social media accounts! - VoskCoin | Twitter, Instagram, Facebook | Linktree
VoskCoin is for entertainment purposes only and is never intended to be financial investment advice. VoskCoin owns or has owned cryptocurrency and associated hardware. VoskCoin may receive donations or sponsorships in association with certain content creation. VoskCoin may receive compensation when affiliate/referral links are used. VoskCoin is home of the Doge Dad, VoskCoin is not your Dad, and thus VoskCoin is never liable for any decisions you make.
Dogecoin Mining Guide to Earn $23 per day