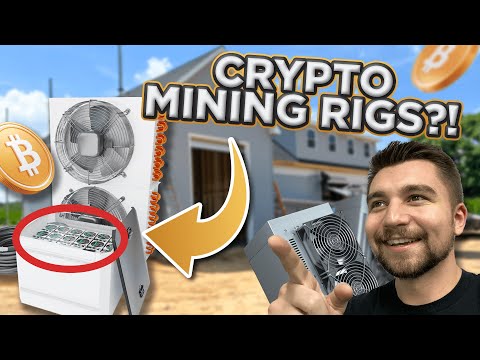 Crypto mining rigs need a lot of moving air to keep them cool - but what if I submerge them in liquid and overclock them?! Today I'll share why I'm considering using immersion cooling on my solar Bitcoin mining farm, and just how close we are to finally mining some BTC! Sub! https://voskco.in/Sub
Watch the full journey building out my mining farm here (playlist) - https://www.youtube.com/playlist?list=PL4dnwHTjcf-9qfOEekcjPwqJqgkO455f-
With a proper electrical setup almost ready to go, my crypto mining farm is finally taking shape after months of unforeseen expenses and difficult circumstances. When it comes to building out a medium to large scale mining operation, efficiency becomes an increasingly important factor to keep in mind. By using immersion cooling, or liquid cooling, for my crypto mining rigs, my efficiency could see an incredible increase! That means I'd be mining more coins for less cost per hash - and thus mining profitably! What are some of the hurdles that I could face choosing this path? Am I still going to use traditional air cooling on other miners? What's the situation with the electricity setup? Let's take a look at all this and more today!
Have some input on the Mining Shed and Solar Farm? Help Us Build the Mining Shed 2.0!
My most recent mining farm update - Crypto Mining Farm Electricity - When Will I Start Mining Bitcoins?! - YouTube
My plans for electricity within my crypto mining shed - Designing Electricity for a Bitcoin Crypto Mining Farm - YouTube

Timestamps


00:00 We are harvesting Bitcorn!
01:22 VoskCoin mining farm update!
02:57 The plans for the BTC mining shed!
03:38 Dealing with electricity costs
04:24 Progress on my DIY Bitcoin mining shed
05:26 Why I am going to build a liquid-cooled Bitcoin farm!
07:32 What's the next step for the Bitcoin mining farm?
08:00 Why am I getting delays on the farm?
Follow us on our official social media accounts - VoskCoin | Twitter, Instagram, Facebook | Linktree
VoskCoin is for entertainment purposes only and is never intended to be financial investment advice. VoskCoin owns or has owned cryptocurrency and associated hardware. VoskCoin may receive donations or sponsorships in association with certain content creation. VoskCoin may receive compensation when affiliate/referral links are used. VoskCoin is home of the Doge Dad, VoskCoin is not your Dad, and thus VoskCoin is never liable for any decisions you make.
Exploring Liquid Cooling My Bitcoin Mining Farm and Expanding Buildings