Have sent 2 emails and no answer to either.
@RonnieDennies504 The main website sold out there HS1 (50 Gh/s) miners. If you want HS3 (2 000 Gh/s), then you can get from here


Both are legit sites
It is kind of weird where the manufacturing company does not respond but the vendors have the stock
I have been watching those websites for 10 days dreaming of buying them
As usual NO Bucks with me

Now, the miner is available in Coin Mining Central

Timing is important… The Faster you are, the better you come out
If there are only limited number of Goldshell ASIC, it will acheive ROI pretty faster.
IT DEPENDS ON THE NUMBER OF THESE MINERS PRODUCED.
Shift this to #mining:asic-mining
I can get from my girl on alibaba for $4300 plus shipp(bout $200),but saw the price dropped by $40 overnight…tryin to stay away from asic for the moment…just slapped myself because I coulda bought 2 of these instead of 4 dead h1…
HS3 still smashing away…1 thing I noticed is that you can't see the miner on some stat pages.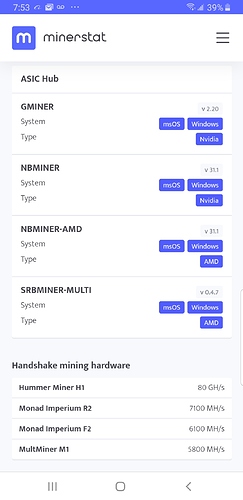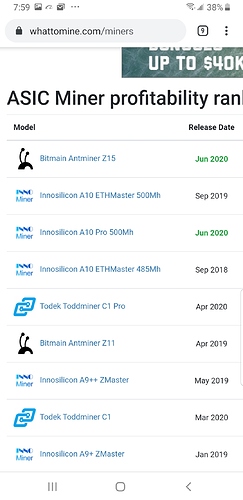 I would imagine when they do post more people would buy and will go down even more. Right now its hanging tough,but went down $3 overnight. I'm waiting to see what happens because by now miners should be arriving to buyers so lets see if it drops. GLA
From the day 1, the HS3 has been raking profits for there vendors and manufacturers. Deliberately they have been not listed in stats pages due to the above reason. or else same hummer h1 story will repeat.
Current profitability is $63/day dropped from $100 it will reduce
@RonnieDennies504 you are awaiting doom for hs3 owners… Are you?

Lol,nah…still punching myself in the head due to buying 4 H1's and selling my 1000+ links at $3.77 to buy the c1 pro which don't hash right. One day I will start making right moves…
Hi Guys,
First time posting, been busy with my business. Been a fan of Vosk for some years now. Mostly Lurking in Discord and Twitter.
I was thinking of picking up a HS1 miner, looked at the Handshake project it looks promising. Has anyone bought a HS1 from the manufacturer https://www.goldshell.com/ website? Is it legit and does it really hash what it promises? I'm always cautious with new mining companies with newly fashioned coins… been burned in the past. Thanks, and any help would be appreciated.
P.S. Vosk if your seeing this, say hello to Tails and Mrs.V for me.

I think your talking about the H1 Hummer miner, which I've heard terrible reviews. Thanks to Vosk for the video review on it. I was referring to the HS1 which is really small and efficient in comparison. Especially for the price and efficiency, its actually superior to the H1 hummer miner by far. See details below.
Product Description
Hashrate: 50GH/s(±5%)
Wall Power: 57W(±5%)
Fan Speed: 3000 RPM
Noise: ≤34db
Connection: USB
Dimension: 132mm(L) * 96mm(W) * 85mm(H)
Weight: 0.564kg
Power Adapter(In package): 12V~5A
it actually has a decent ROI, considering the protocol is still new and it has potential and it seems the coin is doing a dead cat bounce and going back up. https://whattomine.com/coins/327-hns-handshake?hr=50000&p=65&fee=0.0&cost=0.1&hcost=0.0&commit=Calculate
I would love to know if anyone in the community has this miner and if its numbers are legit. If this product is good i have a solid contact in China who can get me the flagship model HS3 for lot less price. Not looking to spend $2000+ on the HS3, if the $129 HS1 miner doesn't function as promised.
50GH/s suck tho. Since they made ASICS you can forget that Handshake thing.
The HS1 is consuming 62 watts at the wall on 120v electric with the laptop PSU and mining at ~51 gh/s for reference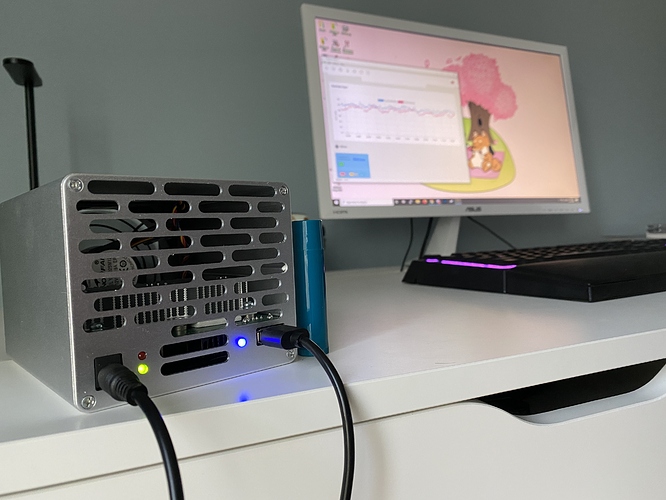 Hey Cryptobot I am looking to start an ASIC machine selling business here in the USA and I am looking for a good source out of China who can get me miners for cheap. I will buy in bulk. I am also interested in getting an HS3 for myself too but it's $5,000 for it on the website. If you give me your connects in China contact details ill personally give you $500 if it's legit and order comes through. I mean you will save me $3000 alone if you can get me an HS3 for $2,000 you deserve it. I am also interested in buying different miners in bulk like Bitmain if your connect has them. Please get back to me and send me an email at Sullivan2319@gmail.com and I will give you my number or something or just message me on here. I am a man of my word if I get it successfully I will venmo, paypal. cash app, or bitcoin you $500.
Hey Vosk,
Looking good bro, thanks for the update. Question in your opinion, Do you recommend Solo mine or Pool with this?
50Gh/s for 50W… Now think