Received my miner today! So excited. Already got it set up and mining. Took me about 30 minutes to figure it all out. Thanks, @VoskCoin !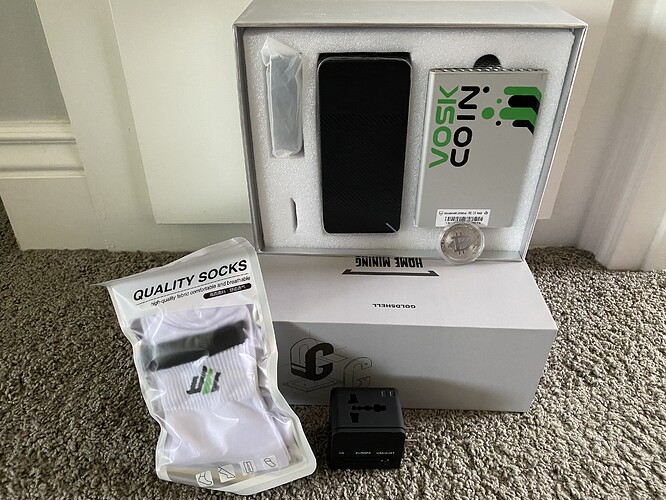 I Want One! I am a newbie, Crypto mining sounds like the thing to do, but I am having soooo much trouble trying to get a machine. Help me Pleeeeaaaaase!
Awesome! Are you in the US? Do you know if I can use a regular cpu power cord instead of the one they provided which I assume is used for outlets in China?
@D1swoop Please see my responses in the other thread😉
@Rudedude I recommend you join the discord group and ask in there in the asic channel. A ton of great people giving solid advice.
Also, @VoskCoin hinted that he's working on another collaboration with goldshell for a DOGE miner. Keep your eyes peeled and subscribe to his YouTube channel (if you haven't already). When the details drop, and if you want one, you will need to order it quickly because it will sell out fast!


i need 1 plxx
I am definitely going to buy one!! I love the channel!!!
I am in to purchase some !
I would be very interested in getting one
i am in on buying 1 mining rig
This is a really cool miner. It now sits next to my other regular LB1. Voskcoin, do you have any updates on the Doge miner collaboration or any other miners to be offered by Goldshell? So far, I am very pleased doing business with this company and I recommend anyone else to buy from them if you are interested in their products.
I would give my unborn child to have one of these.
Got mine in last week and love it. Sold my HS1 Plus on ebay and it covered the price of the newer unit.
@VoskCoin thanks for putting this it there and everything else you do!
LB1 was my first miner in hand and it's it me goin

now time to start levelling up.
Thank you again Vosk!
I'd like to buy one! How can we get an access password?!

These have already sold out, but people have put some up on eBay.
The original sale is over and they are sold out. I think it was in like 15 minutes. There are some up on eBay if you want to check that out.