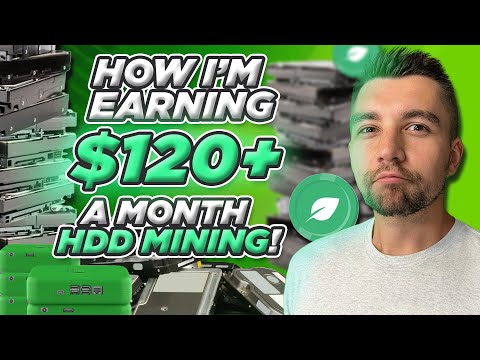 Here's How I Am Earning $120+ PER MONTH Mining Chia With Hard Drives! Evergreen Miner makes plug and play Chia XCH farmers, which are basically HDD mining rigs to earn passive income and I am now building a hard drive mining farm! Grab your own here - Evergreen
Buy a Chia Mining Rig from Evergreen here - Evergreen
Learn more about Evergreen Chia Miners - The Best Cryptocurrency Miner for 2023 | by Miss Vosk (Alexa) | VoskCoin | Feb, 2023 | Medium
Use code VOSKCOIN for the most savings possible
PLEASE tell me if you want a VoskCoin edition chia mining rig! Are You Interested in a VoskCoin Edition Evergreen Miner Chia XCH Farmer?
Crypto CHIA giveaway thread on VoskCoinTalk! Are You Interested in a VoskCoin Edition Evergreen Miner Chia XCH Farmer?
FULL Evergreen Miner Video Tutorial - How To Set Up Evergreen Miner the BEST Chia XCH Farmer! - YouTube
Evergreen Miners are plug-and-play hard-drive cryptocurrency miners that mine Chia ($XCH)! They are safe, quiet, and easy to operate. We just expanded our hard drive mining capacity by adding more Chia Miners, so we are now earning over $120/month in passive income mining Chia. We're hopeful that Chia will reach a new all-time high, which will make these miners even more profitable. Check out our updated review on the Evergreen miner, as well as our new full tutorial on how to set up your Evergreen miner!
Original Evergreen farmer review $60 A Month With HARDDRIVES! - I'm Making $60 A Month With HARDDRIVES! - YouTube
Join the VoskCoin Discord for more HDD mining content! VoskCoin
Subscribe for more mining content! VoskCoin - YouTube
Timestamps!
00:00 Earning money with hard drive mining!
01:22 Chia farming made easy!
02:42 Chia Mining Profitability
03:30 What is the best evergreen miner can you buy?
05:10 How many Chia do you mine per month?
06:45 Evergreen a new company
07:58 What is the future of Chia?
09:50 XCH is a big part of my altcoin mining farm
10:56 Mining chia is very profitable
11:57 Chia has a high output for the marketcap
13:00 Evergreen VoskCoin edition?
VoskCoin is for entertainment purposes only and is never intended to be financial investment advice. VoskCoin owns or has owned cryptocurrency and associated hardware. VoskCoin may receive donations or sponsorships in association with certain content creation. VoskCoin may receive compensation when affiliate/referral links are used. VoskCoin is home of the Doge Dad, VoskCoin is not your Dad, and thus VoskCoin is never liable for any decisions you make.
Here's How I Am Earning $120+ PER MONTH Mining Chia With Hard Drives!