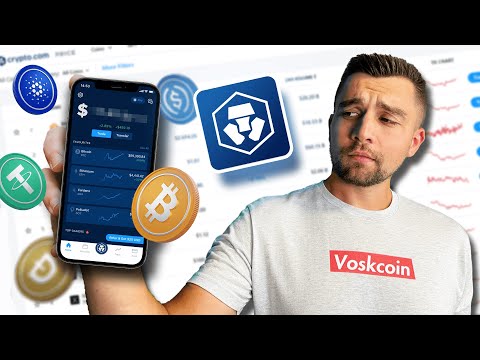 How I'm Making Money with Crypto.Com App in 2022! I review my referral earnings with CryptoCom but also how I earn passive income with cryptocurrency using their Earn feature, and made huge crypto trades in their exchange app! Get $25 FOR FREE using code VOSKCOIN or our link! https://voskco.in/cryptocom
Subscribe to VoskCoin to learn more earn more! https://voskco.in/sub
Unlock the $25 CRO sign-up bonus using our Crypto link - https://voskco.in/cryptocom
Compass sells Bitcoin mining rigs - Compass — Bitcoin Mining and Hosting
Review the BEST Helium hotspot miners - What is the BEST Helium Hotspot Miner to Buy? | by VoskCoin | VoskCoin | Medium
Bobcat Miner 300 is the BEST mining rig to buy! https://voskco.in/HNTb
The Crypto.Com app, not web exchange has enabled me to make a lot of money with cryptocurrency that I wouldn't have otherwise been able to make. CryptoCom helps me trade coins I didn't otherwise have access to trading, and I earn passive income interest staking my cryptocurrencies in the app, putting my money to work for me, and their Crypto CRO VISA debit card is a great way to spend my crypto and also earn big cashback or crypto back rewards! But there are some issues with the crypto.com app, and some fees while claimed to be 0 are actually pretty high due to a spread in the cryptocurrency prices so let's review the pros, the cons, and if the crypto.com app is a scam or if CryptoCom app is great and a huge tool for making money for crypto investors!
Read the VoskCoinTalk Crypto.com thread! Get $50 in Cryptocurrency JUST FOR SIGNING-UP with Crypto.com
Read the VoskCoin Medium Blog Crypto.com review - Crypto.com Review | $25 for FREE?! | by VoskCoin | VoskCoin | Medium

Timestamps


00:00 I've Been Using Crypto.com for Years
01:00 Bitcoin miners for sale
02:34 Get $25 for free Crypto CRO code
03:12 CRO Crypto
03:32 CryptoCom Fees
04:18 Crypto.com's Card Tiers
05:35 Crypto.com: Earn Feature
06:49 Crypto.com: Fiat & Crypto Wallets
07:38 Make mone with hCrypto.com
09:57 Crypto.com's Zero-Fee Stablecoin Swaps
10:32 Focus on the Fundamentals & Long-Term
12:13 How Much Money I Made Crypto.Com in referrals
13:37 Crypto.com Mandates You Have 2FA
14:28 Crypto.com's future
VoskCoinTalk the VoskCoin forum - VoskCoinTalk - Best cryptocurrency & blockchain forum
VoskCoin Facebook - Redirecting...
VoskCoin Reddit - https://www.reddit.com/r/voskcoin/
VoskCoin Discord Server Invite - VoskCoin
VoskCoin Twitter - https://twitter.com/VoskCoin
VoskCoin Instagram - Login • Instagram
VoskCoin is for entertainment purposes only and is never intended to be financial investment advice. VoskCoin owns or has owned cryptocurrency and associated hardware. VoskCoin may receive donations or sponsorships in association with certain content creation. VoskCoin may receive compensation when affiliate/referral links are used. VoskCoin is home of the Doge Dad, VoskCoin is not your Dad, and thus VoskCoin is never liable for any decisions you make.
How I'm Making Money with Crypto.Com App in 2022!