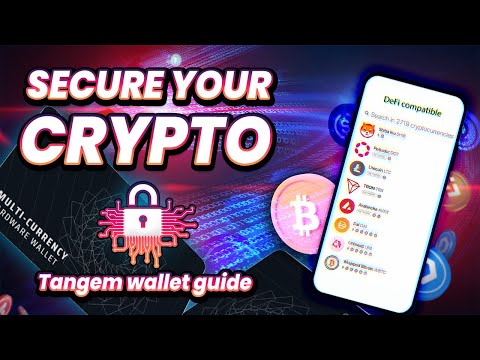 After the collapse of FTX, BlockFi, and other major cryptocurrency exchanges, users should consider moving their funds to cold storage options to keep them safe. Remember, not your keys, not your crypto! Today we're taking a look at one cold storage option, Tangem. Subscribe! https://voskco.in/Sub
Tangem Wallet - Tangem Wallet — Hardware Wallet For Your Crypto
Follow Tangem: Telegram: Contact @TangemCards & https://twitter.com/tangem
FREE TANGEM GIVEAWAY! Comment a wallet torture test idea! Tangem Wallet Giveaway!
Tangem has sent us some of their cold-storage cryptocurrency wallets for testing! In this video, we will review how to set up your Tangem wallet, how to configure your backup cards, what cryptocurrencies Tangem Wallet supports (including Bitcoin, Ethereum, etc.), and how to process a withdrawal and receive crypto on your wallet. We have also been "torture testing" the Tangem wallets to see what they can withstand! We will share all of our tests including, freezing the wallets, driving over them, and more in a future video!

Timestamps


00:00 Storing your own crypto currencies is imporatant
00:53 How to download the Tangem Wallet
02:22 A true crypto hardware wallet
03:26 Even frozen it still works!
04:11 Creating a secure acces code for your hardware wallet
05:30 How to send crypto the Tangem hardware wallet?
06:50 What kind of tokens and crypto does the Tangem wallet support?
08:40 How to send and receive coins on your Tangem wallet
09:50 How to create Multiple wallets
10:22 How to use a hardware wallet with DeFi?
11:37 How to send Ethereum with you Tangem hardware wallet?
12:50 Tails says: Maintain custody of your own coins!
Follow us on our official social media accounts! - VoskCoin | Twitter, Instagram, Facebook | Linktree
Follow VoskCoin on TikTok for more shorts! https://voskco.in/tiktok
VoskCoin is for entertainment purposes only and is never intended to be financial investment advice. VoskCoin owns or has owned cryptocurrency and associated hardware. VoskCoin may receive donations or sponsorships in association with certain content creation. VoskCoin may receive compensation when affiliate/referral links are used. VoskCoin is home of the Doge Dad, VoskCoin is not your Dad, and thus VoskCoin is never liable for any decisions you make.
How to Set Up a Tangem Cryptocurrency Hardware Wallet